All the natural gas stocks have been sold off, regardless of cash flows or balance sheets.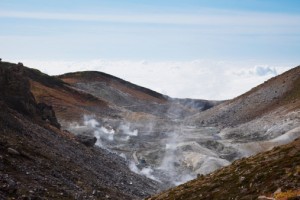 With oil falling over 60% from its 2014 highs, there's not much else on investors' minds when it comes to energy-related commodities – besides selling, that is.
This includes overlooking natural gas. The baby has been thrown out with the bathwater, so to speak, when it comes to natural gas stocks. But was it justified?
The price of U.S. natural gas did fall below $2 per million British thermal units this week. It was the first time it dipped that low since April 2012.
The worry? There's just too much natural gas in the market. What's more is we could see a "warm" winter, which may lead to a further supply glut.
With that, the First Trust ISE-Revere Natural Gas Index Fund (NYSEArca: FCG) has now fallen close to 50% year-to-date and over 15% in just the last week.
Still, it appears there's a lot of fear priced in. Too much fear, perhaps. Forecasts might be overlooking the fact that while producers will likely add to the supply glut over the first couple weeks in November as we head into winter, the recent price drop should quickly discourage any new drilling.
The broader thought is that the market is not separating oil from natural gas, having extrapolated the recent pain in oil stocks to natural gas stocks.
Bottom fishing in the natural gas space isn't for the faint of heart, however. These are high-risk, high-reward stocks. But with that in mind, the recent carnage in the natural gas stocks could be presenting buying opportunities:
Range Resources (NYSE: RRC)
Range Resources' big advantage is its strong position in one of the best oil and gas resource plays in North America – the Marcellus shale – where the company has various low-cost drilling and high-production assets.
It's said that Range has upward of 20 years of inventory to work through in its core Marcellus shale acreage. And Range is no stranger to growing organically. It's focusing on moving more gas to Canada, where there's already a large pipeline and storage infrastructure in place. There's also an increased opportunity for more gas usage in Canada as the country shifts away from coal.
Consol Energy (NYSE: CNX)
This is probably the riskiest of the three stocks on our list. It's been restructuring by downsizing its coal footprint to focus more on natural gas. But Consol still has efficient coal mines that operate at low costs. That cash flow goes toward boosting the company's development of its gas assets.
Longer term, the idea is for Consol to transition into a pure-play natural gas explorer and producer, with a focus on the Utica and Marcellus shales. This means finding ways to monetize it Baltimore port terminal, thermal and metallurgical coal assets, and pipelines.
Chesapeake Energy (NYSE: CHK)
Chesapeake is one of the biggest natural gas players in the United States, with acreage in nearly every U.S. natural gas resource area. If history is any testament, Chesapeake has survived natural gas market collapses and headwinds before, including issues in the late 1990s and 2008. The latter downturn forced Chesapeake's stock price from more than $65 a share to close to $10 in less than six months.
Chesapeake has had to address liquidity concerns of late, because it loaded up on debt following the 2008 financial crisis to buy assets. However, it's been renegotiating contracts and selling off assets to help alleviate any worries. It also announced a 15% reduction in its workforce to further cut costs.
The company has reined in spending since ousting its founder and CEO, Aubrey McClendon, in 2013. The recent decline in oil and gas prices has overshadowed what the new CEO – Doug Lawler, a former Anadarko Petroleum (NYSE: APC) executive – has done.
In the end, it seems that everyone has forgotten about natural gas. Bottom fishing isn't for everyone, but for long-term investors willing to sit through some near-term volatility, Chesapeake, Consol and Range could be bargains.
How Rockefeller really got rich
Upon his death, John D. Rockefeller held a fortune worth $336 billion in today's dollars. But the conventional account of how he actually made his billions is way off base.
The truth is, much, if not most of Rockefeller's vast fortune was due to one simple move. And by making this same move, ordinary people across America are getting rich, too. The best part: you can join them today. All it takes is a few minutes.