"To everything (turn, turn, turn)
There is a season (turn, turn, turn)
And a time for every purpose, under heaven"
— The Byrds, Turn! Turn! Turn!, 1965
If you are reading this letter, then like me, one of your main purposes is to earn market-beating profits.
And that's not always easy in today's hyper-volatile markets. But here's the good news: It's nearly prime time money-making season again.
It's time to use a focused "Overnight Trading" strategy to take full advantage of earnings season . . . earning gains like a quick $1,135 in just 19 hours.
Click here for urgent details.
Let me explain.
Earnings reporting season is almost here, that time when companies reveal their quarterly results. It only happens four times a year.
And these are the most lucrative times during the year to simply reach in and grab quick, overnight gains from the stock market in overnight trading. It couldn't be any easier to follow this winning strategy.
In fact, starting with just $5,000 you could earn $2.8 million in profits by following this overnight trading strategy. There is a very high probability – nearly 80% – of earning huge gains. Meanwhile, you can reduce your risk by 87%.
And your NEXT opportunity is just around the corner, starting in  a few weeks.
Based on what I'm seeing right now, it's going to be a target-rich environment for big, overnight gains this earnings season. Here's why.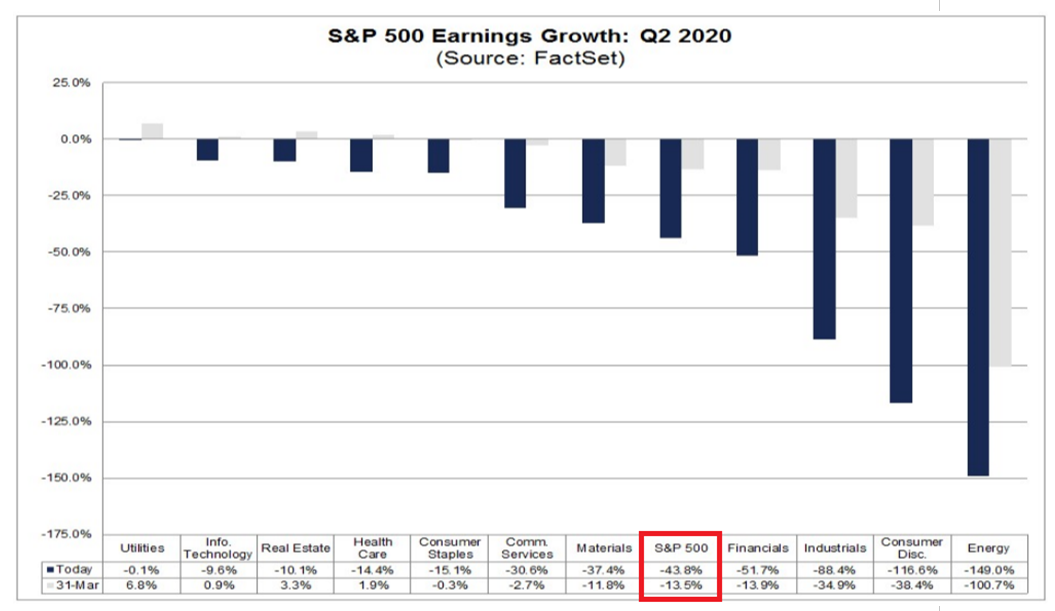 I'll give you the bad news first.
Second-quarter (Q2) earnings reporting season will be UGLY, no two ways about it. Right now, analysts expect Q2 profits for S&P 500 companies to fall 43.8% year over year, as you can see above. Yikes!
Earnings are expected to fall for all 11 S&P sectors. The energy sector is the worst, with profits set to plunge 149%. Consumer discretionary (think airlines, hotels, etc.) earnings should dive 117% year over year.
Now here's the great news. This is also the worst kept secret on Wall Street.
You know that the Covid-19 crisis derailed our economy for several months. So, it's not exactly breaking news to anybody that upcoming S&P 500 earnings will be lousy.
In other words, it's already priced in. That means that this earnings season will have even more surprises than usual. You can expect big moves around key earnings release dates. But for smart traders, volatility can be your best friend. Volatility can deliver plenty of overnight money-making opportunities.
Go here to get my #1 trade to take full advantage!
Here's the bottom line: During earnings season, just days away, there are plenty of chances for you to earn rich profits in overnight trades. And it doesn't really matter whether or not stocks beat earnings estimates, meet them, or even miss. You can make money either way.
My colleague Andy Crowder put together a short video showing you exactly how earnings season overnight trades work.
Click here to get more details.
Good investing,
Mike Burnick