What goes up must come down.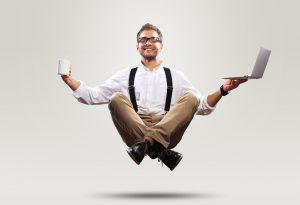 That's as true of stocks as it is rocks.
Click here now to find out how to defy financial gravity.
All the U.S. stock indices have once again been flirting with all-time highs. In a bull market that never seems to end, it seems like we're hitting new "bests" every few months.
But what goes up must come down.
Always.
While physics has gravity on its side, the same thing happens in finance, even if the causes are sometimes less obvious.
It's an immutable law.
This time around, it looks likes earnings are going to be the financial equivalent of gravity.
While predictions were fairly dire for the first quarter, stocks came through earnings season relatively unscathed when reality didn't match the predictions.
Sure, the growth wasn't there. But the slowdown wasn't as bad as many predicted, so investors breathed a sigh of relief and stocks continued their march higher.
Go here to see how we earned 176% profits last earnings season.
This time around, we may not be so lucky.
Earnings season is now just over a week off, and the predictions are once again grim. But, unlike the first quarter, we have evidence from the companies themselves that things aren't looking good.
So far, 113 of the companies included in the S&P 500 index have issued earnings per share guidance. Of those, 77% have said their numbers will be worse than Wall Street is expecting.
That's 87 companies telling you not to expect too much from them.
That's bad news for stocks.
That's the worst ratio of good news-bad news companies since the first quarter of 2016. It's also the second-worst ratio since FactSet started keeping track in 2006.
And stock market corrections followed both those periods in relatively short order.
But it's great news for us.
How could that possibly be good – much less GREAT – news for anybody?
We can defy the law of financial gravity.
Our "Overnight Trading System" thrives on volatility, not price action. Click here to view all 64 of our Overnight Trades.
It really doesn't matter whether a stock makes a big move up or down – we just need investors to worry that a big move is coming.
And, since companies are already confirming what the analysts are saying, higher volatility from investor worry is coming.
That means this could be one of the best quarters for our Overnight Trading System ever.
It could be one of your best quarters, too.
If you have even $500 to invest, we'll show you how you can turn that into big money quickly – even if the predictions prove true and there's a major correction coming.
And I promise – it's A LOT easier than a course in physics.
Here's to Profits,
Ben Shepherd