Everyone's been talking about the Lyft (NASDAQ: LYFT) IPO . . .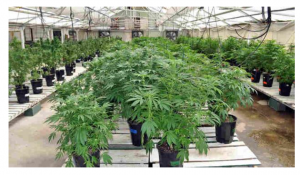 While overlooking two new cannabis pot stock IPOs . . . stocks that just went public.
Discover how to claim pre-IPO shares of Uber and Pinterest – before these stocks go public.
Click here now, before you miss out (again).
Cannabis stocks are rushing to go public.
In Silicon Valley, it's easy for private tech companies to raise $50 million to $100 million from investors.
But in the world of cannabis and pot stock IPOs, investors typically are more cautious. That's primarily because state and federal laws are often in conflict.
The means there's less capital available for private companies.
As a result, cannabis companies must go public if they want to raise substantial capital. These companies desperately need capital to expand cannabis-growing operations and open dispensaries across the country.
So, American cannabis companies are going to Canada and going public.
Secure Uber pre-IPO shares today (click here now).
Two companies started trading within the last couple weeks.
The first is Consortium (CSE: TIUM-U).
It's a Florida cannabis company based in Miami. The company currently operates four cultivation facilities and 11 dispensaries.
Consortium has operations in Florida, Texas, Pennsylvania and Puerto Rico. Plus, the company has licenses pending in Michigan and Canada.
In late March, Consortium raised $51 million by issuing stock at $2 per share. Meanwhile, shares began trading on the Canadian Securities Exchange with the symbol "TIUM-U."
The second of the two pot stock IPOs is Vireo Health (CSE: VREO).
The Minneapolis cannabis company has operations in eight states including Arizona, Maryland, Minnesota, New Mexico, New York, Ohio, Pennsylvania and Rhode Island.
Vireo recently raised $51.4 million from investors. And the company just went public via a reverse merger. Shares now trade on the Canadian Securities Exchange with the symbol "VREO."
There's a new IPO boom underway.
April will bring new stock offerings from Pinterest with a $12 billion valuation. Plus, Uber is secretly preparing to go public in a deal that could exceed $120 billion
Don't miss out on these huge IPOs.
Click here now to claim private shares – before these companies go public.
Yours in Profits,
Ian Wyatt