Register for this master class to find out how to make time work for you.
We've all seen some version of this graph.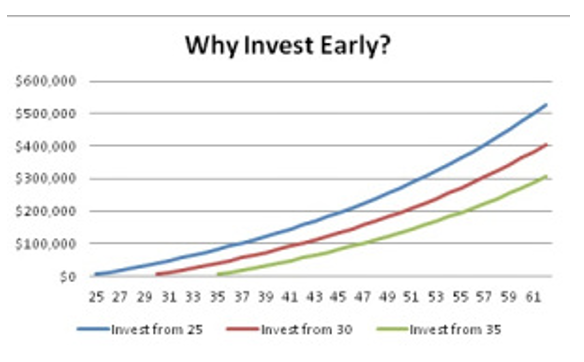 When you're young, everyone tells you to invest NOW. And that's not bad advice.
But time is not always on your side.
Maybe you got a late start.
Then there are always corrections, recessions, crashes, wars – who knows what – that drag the value of your portfolio down.
Time is risk. Lots of things happen, many of which you just can't anticipate.
How many gurus and pundits actually saw the Great Recession coming? If you were long on stocks, you probably saw their value drop by more than 50% between 2007 and 2009.
If you're close to retirement, you just can't afford that risk.
This bull market is so long in the tooth, we all know the next recession is coming. But no one knows when or what will trigger it.
One way to manage risk is to limit your exposure to the market. Here's one of my favorite ways . . .
There's nothing more satisfying than locking in some quick gains in your portfolio. There's certain satisfaction that comes from hitting "sell" on a trade that has a big gain – especially when it hasn't even been open for a day.
The problem is finding the sorts of trades where you can lock in those quick, easy gains… and limit the time you're exposed to market risk.
That's where the V-Crush strategy comes in.
Since Wyatt's chief trading strategist Andy Crowder launched Earnings Season Trader back in the fall of 2017, 80% of his trades have made money. Click here to see his last 50 trades.
Why?
Because his strategy is based on volatility, not price action . . . it actually doesn't matter whether a stock makes a big move – up or down.
And he's identified four times a year when volatility spikes upward, like clockwork. Here are his two most recent trades . . .
Just last month, he opened a trade on Walmart (NASDAQ: WMT) on May 15 and closed it on May 16, locking in a 22.7% profit.
You would have made only a 1.5% gain over the same time if you'd owned the stock.
And there's Disney (NYSE: DIS).
Andy opened a trade May 8 and closed it on May 9, locking in a 20.5% gain.
If you'd held Disney stock over the same period, you would have lost 1%.
The key to those gains is that instead of buying-and-holding, Andy's V-Crush system is designed to make surgical investment strikes.
You get in and get out, in less than 24 hours in most cases, to lock in big gains.
To register FREE for Andy's V-Crush master class, click here.
Time is not always on your side.
Register now to find out how to make time (and risk) work for you.
Here's to Profits,
Ben Shepherd