Real estate creates more millionaires than any other sector of the economy.
Over the last 200 years, 90% of millionaires credit their wealth primarily to real estate.
Go here to start earning $2,374 in monthly rental income – WITHOUT buying a property.
Since 2012, the typical home value has risen 58%. This chart from Zillow shows that prices are now approaching the highest level of the last decade.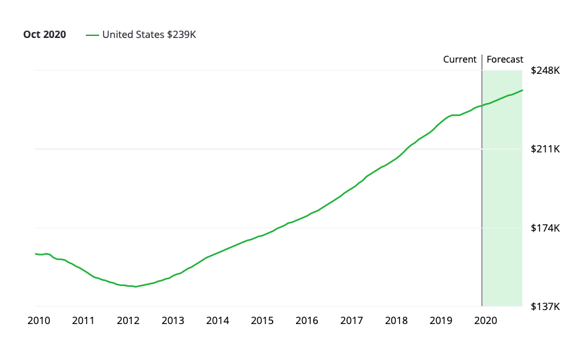 Personally, I've already bought three properties. And two of these properties are rentals that are giving me monthly cash flow.
Real estate is an important part of my family's wealth strategy.
Last year, I was looking at buying a five-unit apartment building next door to my office in Richmond, Vermont. However, the deal fell through and I was outbid for the property.
Today, I'm looking at an entirely new real estate investment. And frankly, it could pay me far more than the $4,217 in rent I was going to get from that apartment building (click here to see how).
NOTE – this doesn't have anything to do with stocks or real estate investment trusts (REITs).
Here's the beautiful thing . . .
Normally, if you're buying a house you'd only need a down payment of 10%.
Yet with investment properties, a 20% down payment is the minimum. And it's not unusual for a bank to require a 30% down payment.
That means the down payment on a $225,000 home could be $67,500.
Most folks don't have that type of cash on hand. And even folks who are sitting on lots of cash might not want to invest that much money in a single property.
Recently, I discovered a secret "off Wall Street" strategy for earning real estate income. In fact, other people are already using this to earn consistent real estate income of $2,374 per month.
Forbes magazine reports that this real estate investment has turned 75 regular Americans into self-made millionaires.
Now, I just prepared a video that includes all the details on how this works to produce real estate income. And I'd like to share it with you today.
Go here now for complete details.
Yours in Wealth,
Ian Wyatt