Donald J. Trump will be the 45th President of the United States. That fact is sending shivers down the spines of those in favor of renewable energy.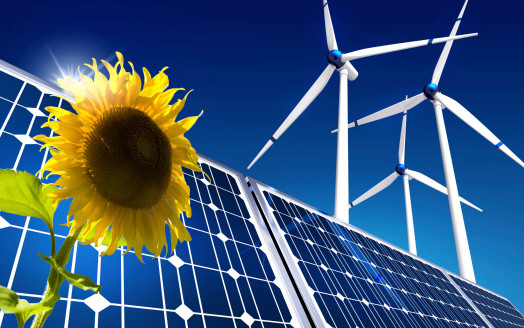 Candidate Trump did say that climate change was nothing more than a "hoax." Not surprising then that, after the election, renewable energy stocks sold off hard. The Powershares Global Clean Energy ETF (NYSEArca: PBD) is down about 4% since then.
Trump has vowed to get the U.S. out of the Paris Agreement on climate and to eliminate numerous environmental regulations while increasing exploitation of fossil fuels.
On the face of it, it doesn't look good for the renewable energy sector. What will be the true effect of a Trump presidency on the sector?
States Have a Big Role
On the positive side for advocates of renewable energy is the fact that some elements are already locked in to place by law.
Let's not forget that much of the push for renewable energy and a lot of the financial incentives comes from the individual states such as California and Texas, which has a huge wind energy industry. A change in federal policy will have little effect on what each individual state is doing.
It is true that both wind and solar energy receive generous federal tax credits. However, these credits were renewed only late last year and will likely stay in place. After all, the districts of many Republican Congressmen benefit from these credits.
So while Congress may let these credits lapse, it is unlikely they will go the extra mile to remove them. Both the Production Tax Credit (PTC) for wind power and the Investment Tax Credit (ITC) for solar power are being gradually phased out. The PTC ends in 2020 and the ITC ends in 2022.
That should give more than enough time for renewable energy to prove itself as a viable energy source that doesn't need subsidies.
Renewable Energy Becomes More Competitive
Both forms of alternative energy have steadily been dropping rapidly in price over the past few years. The pace has been so swift that Fatih Birol, executive director of the International Energy Agency (IEA) says it was "unthinkable" only five years ago.
The IEA recently put out an interesting medium-term renewable energy market report.
According to the report, global generation costs for new onshore wind farms fell by 30% between 2010 and 2015. Costs dropped even faster for solar, with big solar power plants seeing costs fall by two-thirds.
This trend is set to continue. The International Energy Agency forecasts wind power costs to fall another 15% by 2020, with solar power costs down another 25%.
Countries around the world – led by China – have noticed. By 2021, the IEA forecasts China alone will account for more than one-third of global cumulative solar photovoltaic and onshore wind capacity.
The IEA says that 2015 saw, on average, two wind turbines going up every hour and 500,000 solar panels installed every day.
Overall, there was a total of 153 gigawatts of green electricity capacity installed last year with China accounting for roughly 40% of that total.
The 153 gigawatts is more than the total power capacity of Canada. It is also higher than the amount of fossil fuel and nuclear power capacity added in 2015.
Of course, renewable energy's share (including hydroelectric) of actual electricity generation in 2015 was still well below that of coal – 23% versus 39%. The IEA forecast renewable energy's share of electricity generation to grow to 28% by 2021.
If that comes to pass, it will be the equivalent of all the electricity generated today in the U.S. and Europe. But that rosy view relies on costs continuing their rapid descent.
Renewable Energy Investments
If renewable energy becomes competitive with fossil fuels – without heavy subsidies – even a President Trump will embrace the industry as a way to generate jobs.
Should you, as an investor, buy renewable energy stocks now after their recent selloff?
I would consider both the aforementioned PBD and the Market Vectors Global Alternative Energy ETF Trust (NYSEArca: GEX), but not yet. I would let the panic sellers continue their selling for a while.
But there is one name in the space I would consider buying now – Brookfield Renewable Partners LP (NYSE: BEP).
It is down 7.5% since the election because it has renewable in its name.
Yet, its main focus (88% of its assets and 90% of its cash flow) is hydroelectric power generation. Brookfield is situated on 82 river systems across the globe, generating power in North America, South America and Europe.
I'm not aware that Trump is opposed to running water, so BEP – with a 6.5% yield – looks tempting no matter what a President Trump does.