Fears of slowing economic growth in China, a premier emerging market, caused the stock market to plunge earlier this year. That's because economic conditions in China matter greatly to investors. China was previously an underdeveloped nation but is now experiencing rapid economic growth, thanks to its large population and booming middle class.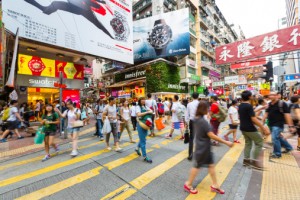 Recent earnings reports out of companies like Apple (NASDAQ: AAPL) helped soothe the market's fears about the state of the Chinese consumer. It appears that economic growth in China will still be above the global average, which would be great news for a number of companies that depend on the Chinese consumer.
Consumer Stocks Lean Heavily on China
There are a few companies that have repositioned their businesses in recent years to devote themselves significantly to Chinese economic growth. This has proven to be more of a headwind than a tailwind this year, but investors are feeling better now that earnings season has come.
For example, Yum Brands (NYSE: YUM) desperately needs a resilient Chinese consumer. Yum is a fast-food giant that operates the KFC, Taco Bell and Pizza Hut chains. It has spent heavily to open the majority of its new restaurants in the emerging markets, primarily China.
Last quarter, Yum earned an adjusted $1.07 per share. Revenue clocked in at $3.42 billion, which badly missed forecasts. Analysts expected $3.68 billion of revenue. Other metrics missed the target as well. For example, Yum's same-restaurant sales, which measures sales at restaurants open at least one year, grew just 2% last quarter in China. Analysts had expected 9% same-restaurant sales growth in China.
Yum is highly dependent on China, as the country makes up more than half of Yum's annual operating profit.
Tech Companies Plant Their Flags in China
Separately, another area of the market that is particularly reliant on doing business in China is technology. This should not be a surprise. As the Chinese economy advances, the emerging Chinese consumer class has more disposable income. This is why China is very fertile territory for technology companies, which have made growth in China a top strategic priority.
For instance, semiconductor giant Qualcomm (NASDAQ: QCOM) has a huge opportunity in China. The boom in mobile devices and connectivity has not yet been fully developed in China. Qualcomm noted in its last annual report that 3G/4G LTE services are still being rolled out in China. To service this, Qualcomm has made China a focus area, and it now derives half of its annual revenue from customers and licensees there.
The problem for Qualcomm is that recently, certain licensees have been underreporting sales. Qualcomm does not believe it is receiving full royalty payments, and has pursued aggressive action against these licensees.
The good news is that Qualcomm believes it is making progress. Earlier this year, the company announced it had reached a large settlement with a "major" licensee in China. Further progress would be crucial, as Qualcomm's revenue in China grew 7% in fiscal 2014, a sharply lower growth rate than the 54% revenue growth in China the previous year.
Of course, no article about growth in China would be complete without further discussing Apple. Thanks in large part to Apple's agreement a few years ago with China Mobile (NYSE: CHL) – the largest wireless carrier in the world with more than 750 million subscribers –Apple's growth in China has exploded.
Apple generated $58 billion of revenue in China in fiscal 2015. That represented 84% growth year-over-year. The iPhone, and specifically the iPhone 6 and iPhone 6s, continue to be hugely popular in China.
Economic growth in China matters greatly to large U.S. corporations. Fortunately, China's gross domestic product grew at a 6.9% annualized rate in the third quarter. This beat economists' forecasts. While that represented the slowest quarterly growth since 2009, it was crucial stabilization that calmed the markets.
DISCLOSURE: Bob Ciura personally owns shares of Apple (NASDAQ: AAPL) and Qualcomm (NASDAQ: QCOM).
Exposed: Apple's Biggest Secret!

Three years ago, for the first time in its history, Apple released the names of 156 companies used in its supply chain—except one. That's because this company produces the single most important component of every iPhone. Without it, Apple cannot exist. Now, for the first time, that company has been exposed. And it's about to make a select group of investors very rich. Find out why right here.