As the largest publicly traded energy company in the world, Exxon Mobil (NYSE: XOM) provides investors some measure of shelter from the storms. Even though the price of oil has collapsed to $30 per barrel in the United States, Exxon Mobil's earnings and stock price have fared better than many other members of Big Oil.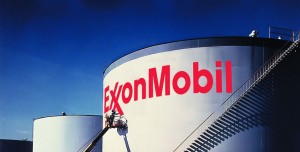 Exxon Mobil's relative outperformance was on full display when the company reported fourth-quarter and full-year 2015 earnings results on Tuesday morning before the market open.
While the stock fell 3% after reporting, the company proved it is far more resilient than many of its distressed competitors. Exxon Mobil once again showed investors why it's the safest oil stock and the most reliable integrated energy company out there.
Down, Not Out
Exxon Mobil stock is down 13% in the past year. That's disappointing performance to be sure, but it's nothing compared to the massive declines most other oil companies are suffering through right now. Exxon owes its outperformance to its strong balance sheet (it is one of only three U.S. companies to hold the triple-A credit rating from Standard & Poor's) as well as its financial scale and disciplined capital management.
Exxon Mobil earned $0.67 per share last quarter, down by half year-over-year. That at least beat analyst expectations, which called for $0.63 per share. Revenue beat as well, coming in at $59.8 billion, compared to the $51.3 billion expected.
Its downstream unit was a source of strength in 2015. Downstream earnings more than doubled for the year, to $6.5 billion. The reason for this is that downstream operations, which primarily includes refining, actually perform better when oil prices decline. When oil goes lower, refiners benefit from lower feedstock costs. That widens their spreads and profit margins.
Unfortunately, Exxon Mobil remains dragged down by its upstream exploration and production activities, which are reliant on a supportive commodity price. Upstream earnings fell 74% in 2015, from $27.5 billion to $7.1 billion.
The good news is that Exxon Mobil is still profitable, even at $30 oil. It maintains a conservative cost structure. The company cut capital expenditures by 19% in 2015. And its massive scale allows it to generate enough cash to continue investing in the business, so that it will not jeopardize future growth projects.
What the Future Holds
Exxon Mobil is aggressively increasing production, which is eroding margins but is at least keeping cash flow intact. The company's total production rose nearly 5% in the fourth quarter.
Going forward, investors should expect the company's production to continue increasing. The reason is that it has several large projects set to come online, including its massive Kearl oil sands project in Alberta.
The Kearl project has already started production, and initial production levels stand at around 110,000 barrels per day. At full capacity, the site is expected to produce a massive 500,000 barrels per day of diluted bitumen. Based on current production levels, that will represent 1 out of every 8 barrels produced in all of Canada. Over the expected 40-year lifespan of the project, it is expected that a total of 4.6 billion barrels are recoverable.
Best-of-Breed Oil Major
Exxon Mobil's lineup of future projects, its ironclad balance sheet and its excellent downstream unit are all working in the company's favor. Success in these areas is why investors should view Exxon as the best Big Oil stock for risk-averse investors.
The flip side of this coin is that Exxon Mobil probably does not offer as much upside potential as other energy stocks, if and when oil prices finally recover. But it does offer relative stability and much greater downside protection if oil stays stuck in a lower-for-longer environment.
Exxon Mobil was the only integrated major to raise its dividend in 2015. Its 4% yield is about as secure as one can find in the energy sector.
How Rockefeller Really Got Rich
Upon his death, John D. Rockefeller held a fortune worth $336 billion in today's dollars. But the conventional account of how he actually made his billions is way off base.
The truth is, much, if not most of Rockefeller's vast fortune was due to one simple move. And by making this same move, ordinary people across America are getting rich, too.
The best part: you can join them today. All it takes is a few minutes.