When investors size up potential dividend growth stocks as investment opportunities, the most familiar large-cap dividend stocks typically come to mind. Indeed, there are many strong dividend stocks in the Dow Jones Industrial Average that dominate their industries and hold mega-cap market capitalizations.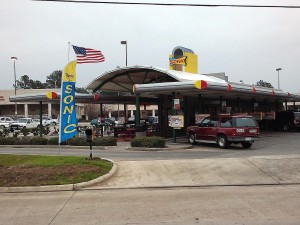 But there are also some great dividend growth stocks among the small-cap universe. These are companies that generally hold market caps under $2 billion. The beauty of small-caps is that they often have more room to grow than their large-cap competitors, which could result in both out-sized capital gains as well as dividend growth.
Fast-food operator Sonic Corp. (NASDAQ: SONC) tends to get lost in the discussion of the many larger fast-food and fast-casual restaurant stocks, but it recently increased its dividend by a massive 22%. Here's why Sonic could be a hidden gem among dividend growth stocks.
Growth That Won't Leave You Hungry
Sonic has just a $1.3 billion market capitalization, which is tiny compared to larger competitors. But the company is enjoying rapid growth.
Sonic recently wrapped up its fiscal year, and the results were very strong. Comparable sales, a critical metric for fast-food companies that measures sales at restaurants open at least one year, grew 7% for the full fiscal year. In addition, full-year adjusted earnings per share last quarter rose 20% year over year.
Sonic's advantage rests in its differentiated menu and unique customer experience. Sonic is the nation's largest drive-in restaurant chain. And, it offers several menu items, such as its Master Blast Real Ice Cream treats, that break the mold of the traditional burger-and-fries offerings.
This has clearly resonated with consumers. Sonic plans to open 50 to 60 new restaurants in the upcoming fiscal year.
Going forward, an additional growth catalyst could be accelerated refranchising of company-owned restaurants. Refranchising is a popular strategy for fast-food companies, as it allows the parent company to collect a steady stream of royalty payments, while placing most of the renovation and operating expenses onto the franchisee.
Since just 28% of Sonic's total revenue last quarter came from franchised restaurants, there is clearly a lot of room for Sonic to increase franchising.
The company foresees another year of growth in store. In fiscal 2016, Sonic expects comparable-restaurant sales growth, along with roughly 75-125 basis point improvement in store-level margins, to result in 14%-18% growth in earnings per share. EPS growth in the high teens should be more than enough to continue raising its dividend and buying back stock at an aggressive pace.
Huge Cash Returns To Shareholders
Such strong growth in comparable sales and earnings gave the company more than enough room to increase its dividend by 22%. Not only that, Sonic returns excess cash flow to shareholders through share buybacks. Along with the Sonic  dividend increase, the company announced a new share repurchase program for up to $145 million of its stock through August 2016. That represents approximately 11% of Sonic's market capitalization.
Sonic has done a great job of effectively buying back its own stock, which has boosted earnings growth. In fact, over the past three years, Sonic has repurchased 15 million shares of its own stock, amounting to a 24% reduction in shares outstanding as a result.
Future Dividend Growth Potential Is Very High
To be sure, Sonic isn't the best pick for investors who may want more income right now. Its 1.5% dividend yield slightly trails the dividend yield for the broader S&P 500 index. As a result, retirees or other investors looking for a higher yield may want to look elsewhere.
However, Sonic could be an ideal pick for dividend growth investors. The company is still small, with lots of room for expansion across North America. Its sales are growing, and the company continues to expand its restaurant count.
Management's forecast for robust earnings growth could easily lend itself to double-digit dividend growth over the next several years. As a result, dividend investors with a long-term focus may want to give Sonic a closer look.
Dividends for Every Month of the Year 
If you're looking for just one dividend stock to round out your income stream, consider a little-known company that pays out dividends 12 months of the year.
Click here to see the full details of this company in my Dividend Calendar…