There are certain companies that have become so entrenched in our daily lives, that for one of them to miss earnings estimates now and again literally means nothing in the long term. Such is the case with Starbucks (NASDAQ: SBUX), which missed estimates by reporting $0.43 per share instead of (gasp!) $0.44.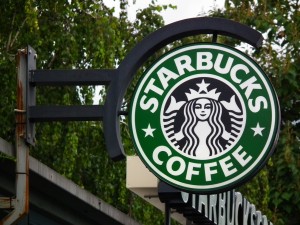 I don't care, and neither should you.
Starbucks' numbers were amazing this quarter as well as for the full year. Here's the rundown of the Starbucks earnings details, and then we'll discuss what it all means.
Starbucks Earnings and Comps
The biggest achievement was that Starbucks' global comparable-store sales increased 8%, driven by a 4% increase in traffic. That comps number is amazing. Most restaurants are thrilled to get even mid-single-digits. These comps were up in every single geographical sector.
Consolidated net revenues were up 18% over the fourth quarter of fiscal year 2014, to $4.9 billion. That led to consolidated operating income increasing 13%, to $969.4 million. Earnings per share pushed up $0.43, up 10% over last year.
For the entire year, global comps were up 7%, driven by a 3% increase in traffic. Consolidated net revenues were up 17% over FY14, to a record $19.2 billion. Consolidated operating income lifted 17% over FY14, to $3.6 billion. EPS soared to $1.82, up 35%.
We always look to net income rather than EPS for true growth, since share buybacks can skew that EPS number. They were phenomenal, rising 35% from $2.07 billion to $2.76 billion. That is just incredible for a company that's been around this long.
Operating cash flow remains intensely robust, giving the company all the leeway it needs to keep growing. It ran up to $3.75 billion, giving plenty of cushion for the 1677 new stores it opened this year. It now has 23,043 locations across 68 countries.
In an era where everyone is doing their shopping online, Starbucks remain a robust and essential brick-and-mortar business.
The Go-To Meeting Place
The whole concept behind the company was not initially about serving coffee. The concept was about giving Americans some place to meet between work and home.
Now there are so many stores in America alone that if you are planning to meet someone somewhere, what do you say? "Let's meet for coffee." And the easiest place to find on any GPS is the nearest Starbucks.
Coffee is secondary. It happens to be an addictive product the company sells while giving you a free meeting location. It has since expanded into all other kinds of foods and beverages. It's a hang-out place where people can go and chill out – at least, here in Los Angeles, all wannabe screenwriters are there with their laptops.
The company has $1.92 billion of cash on hand, offset by $2.35 billion in low-cost debt.
Starbucks' Growth Plans
For 2016, the company wants to open another 1,800 stores, grow revenue 10%, aim for mid-single-digit comps, and $1.85 fiscal year EPS.
With the stock at $62, that puts Starbucks at 34 times next year's estimates. Normally, I would say that's an insane multiple. But hey, Starbucks just grew net income by 35% this year.
When you add in Starbucks' global brand name, great cash flow and strong financials, I don't consider it entirely unreasonable.
Learn How to Profit from All Apple Product Launches: Past, Present and Future!
Apple has been incredibly secretive when it comes to its latest gadget — the Apple Watch. But the truth is, there's an even bigger secret they're hiding in Cupertino, CA.  Apple has been keeping it under-wraps for decades… yet none of its devices could exist without it.  Discover this company, and you could make a pretty penny this year. Discover Apple's biggest secret right here.