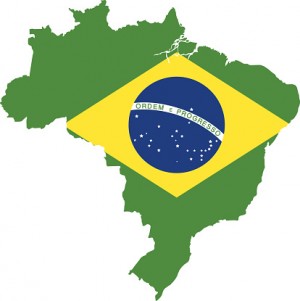 The Chinese stock market is still in the tank. The Shanghai Composite Index has been in a free fall for the last few weeks, now down 11% for the last three months. With this, even U.S. companies are feeling the pressure, notably, those with the most exposure to China.
The three stocks in the S&P 500 with the most revenue exposure to China are Skyworks Solutions (NASDAQ: SWKS), Wynn Resorts (NASDAQ: WYNN) and Qualcomm (NASDAQ: QCOM). Skyworks generates 83% of its revenues from China, Wynn gets 70% and Qualcomm gets 61%.
Shares of all three are down 10% or more over the last 90 days.
In reality, many of the chipset companies have a lot of exposure to China.
The likes of Micron Technology (NASDAQ: MU), Applied Materials (NASDAQ: AMAT) and Texas Instruments (NASDAQ: TXN) all generate around 50% or more of their revenues from China. And their respective stock prices are down 35%, 12% and 8% over the last three months.
China Scenario Could Hit Brazil
Now, the reason I mention all these companies with a lot of China exposure is that we could be set up or another China-like scenario, this time on another continent. 
Brazil is hurting right now and there could be more pain on the way. That means stocks with heavy Brazil exposure are worth avoiding for the near term.
Part of the selloff in China is driven by worries that the Chinese economy is slowing. The same could be said for Brazil, where the country has been lowering its growth forecasts and unemployment is on the rise. Standard & Poor's recently moved Brazil's credit rating from stable to negative.
Brazil also has a number of corruption investigations going on, which could further stifle investment spending.
Here are three U.S. stocks to sell on Brazil's weakness. Nothing is off the table either, as everything from food to energy is seeing less demand.
Owens-Illinois (NYSE: OI)
Owens-Illinois is a maker of glass bottles, and thanks to declining beer sales in Brazil, it's feeling a slowdown in volume. Latin America accounts for just over 13% of its total sales.
Shares are down 20% year-to-date, but the big fear is that cheaper substitutions are available, which could further pressure sales. Glass is losing market share to cans and plastic. And Owens-Illinois could see even more top line and margin pressure, given the buildup of inventories in Brazil.  
Goodyear Tire & Rubber Co. (NYSE: GT)
The tire maker saw sales in Latin America (where Brazil is the largest country by GDP) fall by 20% year-over-year last quarter. Latin America accounts for roughly 10% of its sales.
Now, the 20% fall in Latin American revenues was bad enough, but there's weakness in other areas for Goodyear. Revenues last quarter were down 20% year-over-year for Europe, the Middle East and Africa and down 10% in Asia.
Whirlpool (NYSE: WHR)
Whirlpool, the appliance maker, generates just over 15% of its sales from Brazil – which also happens to be its second-largest market. Last quarter, its sales fell 22% year-over-year for Latin America.
The rebound in the U.S. housing market has been good for Whirlpool and could be partially overshadowing the Brazil weakness. Whirlpool also faces currency headwinds related to Brazil; the Brazilian real is near 12-year lows.
For the bold investors, there are ways to play Brazil's decline. The purest play is the ProShares UltraShort MSCI Brazil (NYSEArca: BZQ), which benefits from a decline in Brazilian stocks. The ETF is already up 50% year-to-date, with its biggest bets being against the likes of Vale (NYSE: VALE), Petroleo Brasileiro Petrobras (NYSE: PBR) and BRF (NYSE: BRFS). If things do turn out as badly as expected, there's more upside for the ETFs and more downside for the three stocks above.
Wars will be fought over this
Over the last 15 years, one resource has caused more than 500 conflict-related events…11 of which have turned violent. What's more, the British non-profit International Alert estimates that there could be 46 conflicts within the next 10 years…all related to this scarce resource. And some of the wealthiest insiders—Warren Buffett, Goldman Sachs and JP Morgan—are moving to profit from it right now. Go here to get the full story.