The biggest technology merger in history is in the works right now.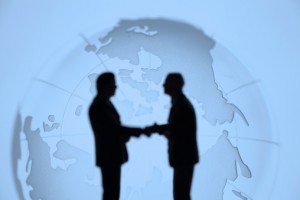 Dell Inc. announced last week that it would purchase EMC Corp. (NYSE: EMC), the information technology behemoth that specializes in virtualization and cloud services. The deal, worth $67 billion, would give privately held Dell control over both EMC and its controlling stake in VMware (NYSE: VMW).
The deal matters to investors for two reasons.
First, that the largest technology merger in history is in the cloud computing space says a lot about the direction of the industry.
Consider that Hewlett-Packard (NYSE: HPQ) is now less than two weeks away from its long-awaited split that will separate its computer and printer business from its enterprise data business. HP clearly looks to separate these businesses to allow investors to focus on its enterprise data business. In that same vein, here we have Dell founder and CEO Michael Dell's 67 billion votes of confidence in favor of some of the same kinds of enterprise IT solutions that HP offers.
Unusual Deal Structure
The second reason that the deal matters is because of what its structure says about VMware.
EMC bought VMware outright in 2004 but spun it off in 2007 in an initial public offering, after which EMC retained 85% of the shares. Bloomberg reports that today EMC owns about 81% of VMware.
(Click here to learn about two recent stock spinoffs with huge upside.)
Dell is essentially paying $33.15 per share to EMC shareholders. But only $24.05 of that will come in the form of cash. The remaining $9.10 that EMC shareholders are receiving in the deal will come in the form of tracking stock intended to mimic the performance of VMware's actual shares.
The move is a bit unusual. Why wouldn't Dell just buy both EMC and VMware outright?
One possible explanation is that the deal would have been simply too big to pull off. Since VMware was worth around $34 billion prior to news of the deal, the remaining 19% of the company would have been worth around $6.5 billion. Using the same premium that Dell paid for EMC, Dell would have paid about $8.7 billion to own VMware outright.
Such a move would likely have been seen as logical by the market. After all, EMC has been working with VMware for more than 10 years.
So why not buy both?
It is entirely possible that the additional $8.7 billion, which would have increased the $67 billion deal by roughly 13%, was simply too big. Consider that Dell is expected to raise $40 billion in debt to finance the deal as is – a debt burden that HP CEO Meg Whitman says will cost Dell $2.5 billion per year in payments.
Maybe the additional $8.7 billion would have stretched Dell too thin. Frankly, if this is the case, then I have serious concerns about Dell's ability to shoulder the $67 billion burden to which it has already committed.
VMware Shareholders Beware?
There is another possible reason why Dell is not buying VMware.
Perhaps Dell doesn't want VMware. Perhaps it wants to keep EMC's stake in VMware separate in the deal because it knows it will have a much easier time unloading the stake if it isn't already integrated with EMC in the broader merger.
This is a very real possibility that the market is clearly aware of.
Consider that shares of VMware fell nearly 6% the day the deal was announced, while EMC shares rose nearly 5%. VMware has continued to slide since then and is now down 15% since the deal was announced on Oct. 8.
VMware investors clearly aren't pleased with the deal as is. EMC shareholders, on the other hand, are up 7% since the merger announcement. Though the structure of the payout for EMC shareholders may change, the largest technology merger in history looks like it will go through.
Once again, Michael Dell is changing the face of the technology industry.