Third-quarter earnings reporting season has been one for the record books in terms of positive earnings surprises (click here to cash in now).

Over 90% of S&P 500 companies have reported third-quarter results as of the end of last week. Fully 84% of those reports have been positive surprises, with actual results above estimates. Often, FAR above estimates.
This is the prime time for you to cash in with a special earnings season strategy that captures quick, overnight gains. In fact, this strategy is right on the money 87% of the time, delivering a cumulative gain of 222.4% in 2020 alone.
This strategy produces steady, predictable profits.
Gains like $735 in blue-chip retailer Walmart this week . . .
Or the $350 profit earned on Walt Disney Co. at the end of last week . . .
And the $680 gain earned from CVS Healthcare Corp.
You get the picture. And the best part is, all of these gains were earned in LESS than 24 hours.
This system is like having your own printing press that spits out overnight profit checks from some of America's biggest and best blue-chip stocks over and over again.
And this earnings season has been a golden opportunity for you to cash in.
S&P 500 companies been beating forecasts by a 9-to-1 ratio this season. They're not just inching ahead of forecasts by a penny of two, either. They are absolutely crushing it.
On average, companies are posting profits that are  19.4% ABOVE Wall Street estimates. That is simply incredible. For comparison, the average profit beat rate over the last five years is just 5.6% above estimates.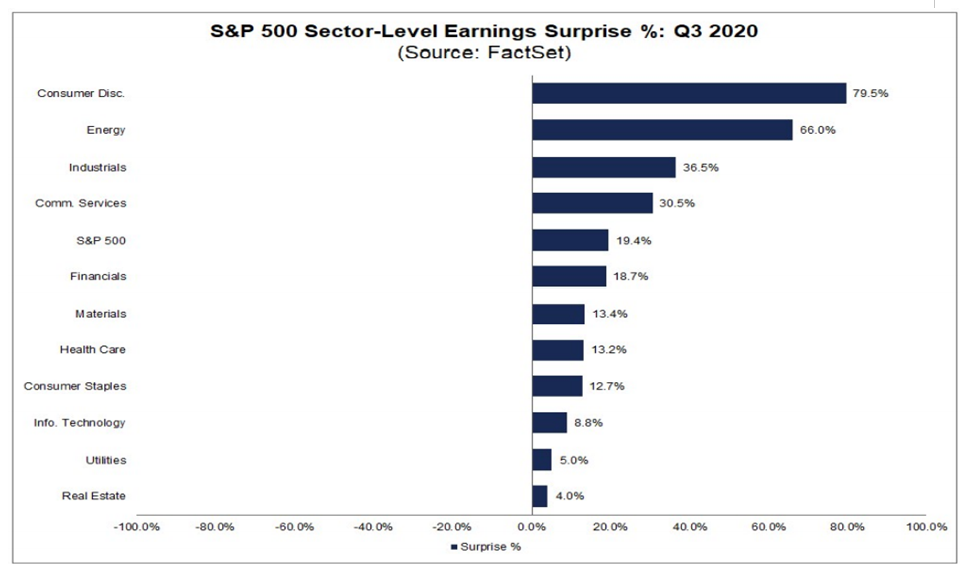 This earnings season is three-and-a-half TIMES better than average. And all you have to do is place this one simple trade the day before an earnings report . . .
And then cash out the very next day with $350 . . .  $680 . . .  and even $735 in steady cash profits over and over again just like clockwork.
And as you can see in the chart above, the positive profit surprises have been very broad-based this season. Consumer, Energy and Industrial stocks are leading with the most earning surprises.
But every single sector is beating expectations.
My colleague Andy Crowder knows how to take full advantage of this. He developed a unique earnings-season strategy that can deliver consistent, overnight profit opportunities.
This strategy is up 224.4% this year alone and has gained 920.2% since he began this strategy.
Click here to get the urgent details – because before you know it, earnings season will be over.
Good investing,
Mike Burnick