Tilray (NASDAQ: TLRY) shares are on fire!
Shares are surging 41% this morning . . . following a 29% gain yesterday.
Folks who invested $5k in the July IPO are sitting on a $63,529 windfall!
After a 1,171% gain – in just two months – I'm not buying Tilray shares . . .
Instead, I'm buying the NEXT red-hot cannabis stocks. They're part of something I call The Marijuana Buyout Boom.
Go here for my urgent briefing.
Just check out this Tilray stock chart: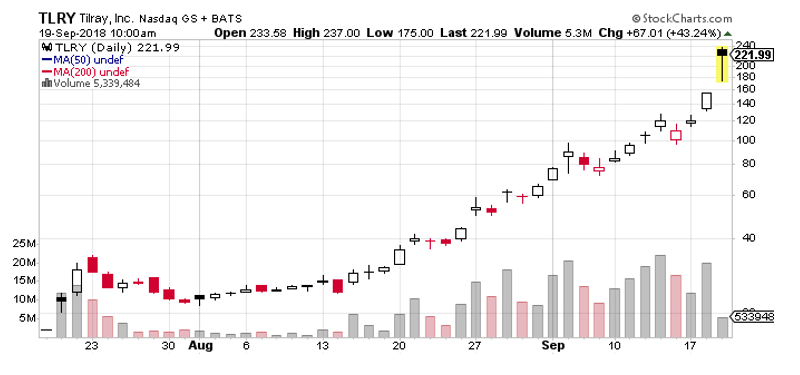 On Aug. 14 – when this bull market got started – you could've picked up shares for just $24! This morning, the stock is at $216.
What's behind the 1,171% gain?
Tilray was the first cannabis company to go public in an IPO on a U.S. stock exchange. That attracted a lot of attention from Wall Street firms and institutional investors.
Canopy Growth (NYSE: CGC) and Cronos (NASDAQ: CRON) are the only other Canadian cannabis companies trading on a major U.S. exchange. The other companies simply trade "Over the Counter" – which can make these stocks off-limits to some institutional investors.
Yesterday's rally was sparked by major news . . .
Tilray was approved by the Drug Enforcement Administration to import cannabis to the U.S. for medical research.
Earlier this month, Tilray announced that it was able to import a medical cannabis product to the United Kingdom.
The stock has become a favorite among pot stocks.  That's largely due to the company's involvement in pharmaceuticals, including a partnership with Novartis (NYSE: NVS).
Last night, Tilray CEO Brendan Kennedy joined Jim Cramer on CNBC's Mad Money.
"All the alcohol companies need to enter this industry," he explained. But that's not all . . .
"Cannabis is a substitute for prescription painkillers, prescription opioids, and so if you're an investor in a pharmaceutical company or you're a pharmaceutical company, you have to hedge the offset from cannabis substitution."
All that good news and PR is helping send this stock surging.  Here's why . . .
Tilray stock is a simple story of supply and demand.
In its IPO, Tilray issued just 16.6 million shares of stock. That compares with a total of 93 million shares outstanding.
What does mean? Well, 83% of Tilray's stock is "locked up" for 180 days. That means it can't be SOLD until January 2019.
As Tilray reports more good news . . . the stock price rises. That rising price continues to attract momentum investors – sending shares even higher.
Honestly, I thought the stock was overvalued at $50. And it's now trading above $200.
It's more valuable than 39% of stocks in the S&P 500 index . . . with a $17 billion valuation.
Click here to get the cheapest stocks for the marijuana buyout boom!
How Overpriced is Tilray?
Let's compare the stock to Canopy Growth (NYSE: CGC).
Canopy is currently valued at $12.4 billion. That means Tilray is valued at a 37% premium to Canopy Growth.
That's tough to justify.
Tilray hasn't revealed its cannabis production capacity. However, the company recently projected it will have 912,000 square feet of growing space by the end of this year.
Based on my insights from other cannabis stocks . . .
That would put Tilray on track to product around 50,000 – 80,000 kg of cannabis per year.
Meanwhile, Canopy Growth is estimated to have a fully funded production capacity of 500,000 kg per year.
Plus, Canopy just raised $4 billion in equity from Constellation Brands (NYSE: STZ). That compares with the $283 million raised by Tilray in its IPO.
Rational comparison proves that Canopy Growth is worth more than Tilray. Yet today, the market says otherwise.
As Benjamin Graham reminds us, "In the short run, the market is a voting machine. But in the long run, it's a weighing machine."
If Tilray stock is worth $216 per share . . . than Canopy stock is worth at least $150 per share.
Tilray stock is grossly overvalued at these levels. And it's a downright dangerous investment.
Instead of buying Tilray stock . . .
I'm getting ready for the NEW marijuana buyout boom.
These undiscovered cannabis stocks are the perfect fit for alcohol, tobacco and pharmaceutical companies.
Tomorrow's LIVE webinar reveals urgent details.
Click here to join me – it's FREE.
Yours in Profits,
Ian Wyatt