One of America's top cannabis stocks announced major news . . .
A $949 million acquisition of an Oregon cannabis company.
The deal creates the No. 1 cannabis company in the U.S. – with over $200 million in annual sales!
Go here for my top pot profit plays for 2019!
Curaleaf (OTC: CURLF) is one of the top cannabis stocks in the U.S.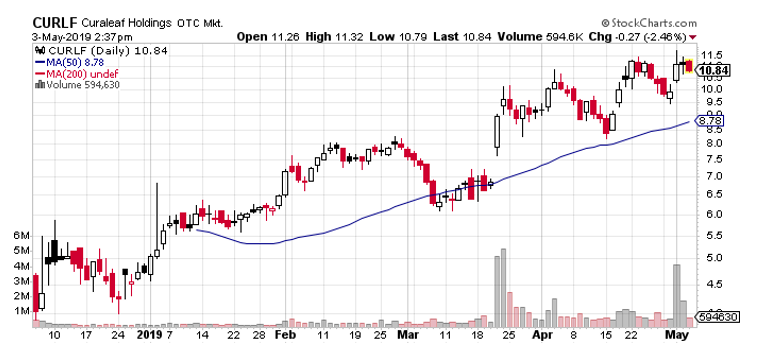 The stock has surged 129% in 2019 – making it a top performer.
Curaleaf owns 28 dispensaries, 12 cultivation sites and nine processing facilities in 12 states. The company is focused on the East Coast of the United States.
That's changing with the just-announced acquisition.
Curaleaf will acquire Cura Partners (private) in a deal valued at $949 million.
The deal gives Curaleaf ownership of the Select cannabis brand.
Will Curaleaf buy this upcoming pot stock IPO (click here)? Secure shares before the news hits.
Select produces cannabis products that are distributed to 900 retailers in Arizona, California, Oregon and Nevada. Last year, the company's products generated sales of $117 million.
The combined company had sales of $205 million in 2018. And that was an increase of 213%!
After the merger, Curaleaf will have a market value of $5.8 billion.
Measured by revenues, Curaleaf is larger than Canada's Canopy Growth (NYSE: CGC). Last year, Canopy sales totaled $120 million.
Canopy is still the world's most valuable cannabis company – with a market value of $17 billion.
Curaleaf is emerging as a top player in the booming U.S. cannabis market.
With a stronghold in the East and West Coast, the company is poised to remain a dominant player.
Plus, the company's CBD cannabis products will be distributed to over 800 CVS locations. A nationwide rollout could occur later in 2019.
And, Curaleaf could be planning additional acquisitions in 2019.
In fact, one of these upcoming pot stock IPOs could be the perfect target.
That's why I'm loading up on the secret cannabis IPOs – as soon as they start trading.
Go here now for urgent details.
Ian Wyatt