2015 was an up-and-down year for technology. The personal computer industry continued to crumble, and fears of slowing economic growth in the emerging markets caused technology stocks to fall off a cliff in the summer months.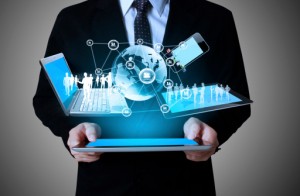 However, many tech companies did very well, and some delivered outstanding returns in 2015. As investors close the book on the year, these are the companies set to outperform next year.
The following three companies revolutionized their respective corners of the tech industry in 2015. Continued growth is very likely for all three of these top tech stocks, which sets the stage for another very profitable year for their investors in 2016.
No. 1 Tech Stock for 2016: Apple (NASDAQ: AAPL)
Fresh off the release of the iPhone 6 Plus, the Apple Watch and the new Apple TV streaming device, Apple racked up impressive growth in 2015. Apple generated $234 billion in sales in fiscal 2015, up 28% from the previous year.
With a new suite of products set to hit the market next year, Apple could have another year of strong growth in store in 2016. Apple is rumored to be involved in some major projects, including a possible television set, or even a foray into automobiles. While these are simply rumors at this point, a major product release of any sort could have huge implications.
Apple has repeatedly revolutionized the technology world before, and with massively deep pockets (including more than $200 billion in cash in the bank) it can do it again. In the meantime, Apple returns huge amounts of cash to investors–$17 billion in dividends and buybacks last quarter alone.
With a P/E of just 11 and a nearly 2% dividend yield, owning Apple stock is a good bet for next year.
No. 2 Tech Stock for 2016: Microsoft  (NASDAQ: MSFT)
Microsoft had a great run in 2015, and is poised for even better things next year. The stock is up 22% year-to-date, not including dividends, as the software giant successfully navigated a transition from the personal computer to the cloud. Its cloud based products like Office 365 and Azure fueled 96% constant-currency revenue growth in fiscal 2015.
Microsoft also made significant progress in hardware. Its Xbox One and Surface Pro 3 sold very well. Microsoft's Surface revenue more than doubled in the fiscal year, and Xbox revenue jumped 27% year over year.
This puts Microsoft in a fantastic financial position. The company has $99 billion in cash and investments on the balance sheet. This means it has the ability to continue expanding into its key future growth opportunities, specifically the cloud. And, since the stock is still reasonably valued at an 18 forward P/E, along with a solid 2.5% dividend, Microsoft could deliver another year of strong returns in 2016.
No. 3 Tech Stock for 2016: Amazon.com (NASDAQ: AMZN)
Speaking of the cloud, there may be no better cloud play than Amazon. Amazon's stock performance was nothing short of spectacular this year: it is up 124% year-to-date.
Not only is Amazon continuing to rack up massive growth as the king of Internet retail, but the amazing success of its Amazon Web Services business took the technology world by storm in 2015. In the past 12 months, Amazon's total operating cash flow is up an astounding 72%.
Separately, Amazon has an additional growth catalyst for next year, in the form of its Amazon Prime membership program. Amazon recently announced it had added 3 million Prime accounts in the first three weeks of December, bringing the total to the "tens of millions" worldwide. Prime offers a number of services, including streaming music and video, as well as free two-day shipping on most items.
This lays the foundation for another year of huge growth in 2016. Amazon's domination of e-commerce is likely to continue next year and beyond.
How to hitchhike on Apple's enormous success

If you've missed out on Apple's enormously successful growth, don't worry. The truth is, there's an entire universe of smaller companies that have grown right alongside with it—handing investors returns of 189%…200%…283%. But there's one that Apple would prefer you never know about. That's because it supplies the single most important component of every iPhone. Without it, Apple cannot exist. Discover it today before it shoots to the stars.