Trade Wars Launch New Bull Market – Click here for top three stocks to BUY NOW
Starting June 10 . . .
President Trump plans to slap a 5% tariff on Mexico.
Stocks plunged on the latest expansion of the Trump Trade War. And while most companies will suffer . . .
The trade war could spark the biggest-ever commodity super-cycle.
Go here for the top three stocks to BUY NOW.
President Trump has threatened Mexico ever since the presidential campaign. And after failing to get them to pay for the border wall . . . he's threatening new tariffs.
Here's the Tweet that sparked everything: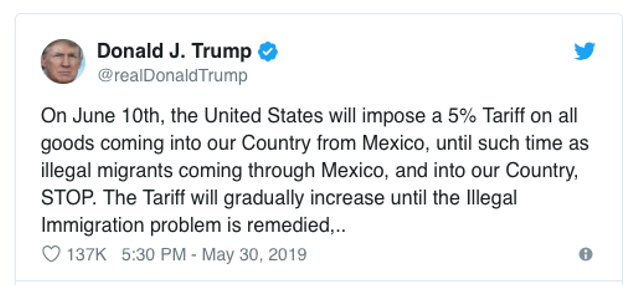 Mexico is the biggest trading partner – exporting $371.9 billion of goods into the U.S. last year.
Economic experts – including White House advisor Larry Kudlow – say that American consumers will pay for the tariffs.
The total cost? Well, a 5% tariff equals . . .
$17 billion.
Mexico is America's largest agriculture partner. Folks will feel the tariffs at the grocery store. That's because Mexico produces fruits, vegetables, processed foods and beer for U.S. markets.
Plus, tariffs will affect the cost of cars, machinery and flat-screen TVs.
Stocks plunged on the news. All the major U.S. markets dropped more than 1% on Friday morning.
The S&P 500 is now trading at 12-week low. And the expanding trade wars with China – and now Mexico – are the No. 1 reason for the market decline.
While most stocks are under pressure . . .
One undiscovered group of stocks stands to reap huge profits.
That's because with a single stroke of the pen…
President Trump create the biggest commodity super-cycle in history (click here for urgent details).
This one move would be a boom for U.S. companies and would directly hurt America's trading partners.
The president is required to decide before July 14.
This one decision could spark quick profits of 3,152% . . . 4,130% . . . 10,172% . . .  and even more!
Frankly, this could be the most profitable investment you ever make.
Don't wait for this news to go mainstream on CNBC and Bloomberg.
The time to get started is right now – before Trump announces this next move in the trade war.
Click here now – before it's too late.
Yours in Profits,
Ian Wyatt