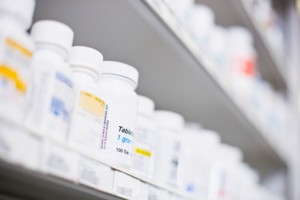 We all know that prescription drugs have side effects.
Turns out that Obamacare also has a side effect – and it's a big one.
In this new health care environment, companies feel they need to bulk up in order to survive. The health care business is turning into the land of the giants.
We've seen the birth of giants in health insurance and health care providers. Now we are seeing it in the drugstore sector.
Walgreens Boots Alliance (NASDAQ: WBA) made a $17.2 billion offer (including debt) last week for its rival Rite Aid (NYSE: RAD). The deal would unite two of the country's three biggest drugstore chains.
According to Dealogic, this deal brings the total to $447.8 billion in health-care-related deals in 2015.
The Walgreens-Rite Aid Merger
The latest deal combines the vast drugstore networks – about 13,000 stores in total – of both Walgreens and Rite Aid. The merger would expand Walgreens' presence in regions of the U.S. where it is underrepresented, such as the Northeast.
It would also add a pharmacy benefits manager it can call its own.
The companies would initially continue to operate separately, but would be integrated over time. Walgreens says the deal will be accretive to earnings in its first full year after completion.
The key rationale behind the merger is the fact that the deal could make the newly merged company the largest single purchaser of drugs globally. That would give it the necessary oomph to drive better deals on drug pricing. Walgreens is targeting about $1 billion in cost-saving synergies.
The increased size is just what the doctor ordered for Walgreens. Drugstore chains in the U.S. have been squeezed hard by rising drug costs on the one hand and the government's push to reduce costs on the other.
The CEO of Walgreens Boots Alliance, Stefano Pessina, told the Financial Times that the U.S. market "is not particularly rational (and is) high priced."
Welcome to the land of Obamacare, Signore Pessina.
Regulatory Hurdles
The deal will no doubt have to face some regulatory hurdles.
To gain approval, drug stores will have to be sold in places where there is strong overlap between the two chains – California, New York and Massachusetts.
A bigger problem will be whether regulators will say OK in effect to a drug store duopoly. If the deal goes through, Walgreens would control 22% of revenues from prescriptions. Its major rival CVS Health (NYSE: CVS) would control 23.7%, according to Pembroke Consulting.
My belief is that this deal will be given the nod by regulators.
Walgreens' Global Future
Either way, the deal making from the 74-year-old Stefano Pessina will not stop anytime soon. His goal is to dominate health care retailing and pharmaceuticals distribution on a global scale.
Pessina already built his company up from a small wholesale drug distribution business in southern Italy to the present Walgreens Boots Alliance.
In 1997, he merged his Alliance Santé with UniChem to form Alliance UniChem. Then in 2006, Pessina sealed a deal with Britain's Boots pharmacy chain. In 2007, together with KKR & Co. (NYSE: KKR), he took Alliance Boots private for $18.5 billion. At the time, that was Europe's biggest ever buyout.
Then in 2012, Pessina finally broke into the U.S. market with a two-part deal involving Walgreens taking over Alliance Boots. First, Walgreens bought 45% of the company for $6.7 billion in 2012. Walgreens subsequently bought the remainder of Alliance Boots in 2014 for $14.7 billion.
And now we have this Rite Aid merger.
What's next on Pessina's agenda? I would not be surprised to see him beef up the pharmacy benefits side of the business. So he may look at Express Scripts (NASDAQ: ESRX). There would be regulatory hurdles again with that deal.
Pessina also envisions expanding his empire to Asia, with China an obvious target.
Stay tuned. The global deal maker Pessina is not done yet. That makes Walgreens Boots Alliance a company to watch and one to own.
(For stocks to own for the long term that you don't need to watch in the short term, click here.)