These days it's hard to know what's going on with retail behemoth Wal-Mart Stores (NYSE: WMT).  The stock is down. Investors have been warned to expect disappointing earnings. And earlier this month, the company announced plans to close 269 stores, more than half of them in the U.S.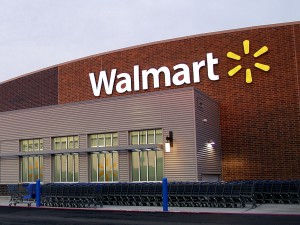 While it is true that those 269 stores are a small fraction of Wal-Mart's 11,000 stores worldwide and that Wal-Mart also has more store openings planned for later this year, it's also true that this is the biggest streamlining in the history of a company that is much better known for its rapid expansion.
So, what's the reason for Wal-Mart's troubles? It's an important question for investors wondering whether they should take advantage of the stock slump or remain on the sidelines. My take is that while online retail giant Amazon.com (NASDAQ: AMZN) is a formidable threat, Wal-Mart's troubles run deeper.
Many Missteps at Wal-Mart
Wal-Mart's biggest challenge seems to be a management team that hasn't adequately adopted its business model for an evolving retail landscape. Consider the following:
The majority of store closings planned will be its Express stores. Express was launched relatively recently as a new strategy for expanding into a new part of the market with smaller format stores. It's now clear that new strategy was a miss.
Management is taking a nip/tuck approach when a larger overhaul is probably needed to address Wal-Mart's troubles. Perhaps the worst part of Wal-Mart's store closing announcement earlier this month is that it's so small. It follows a pretty significant earnings warning late last year that would seem to suggest broader action is warranted.
It's not clear that Wal-Mart management has a good grasp on the industry and the best strategy to take. The company's response to its own news that earnings this year will fall as much as 12% has been vague and a little bit odd. Aside for a reference to unfavorable currency fluctuations, management has not offered investors much information about its operations or its strategy for boosting business.
Wal-Mart has made other missteps. It recently backed out of an agreement to build two new stores in low-income neighborhoods of Washington, D.C., which had stood to gain from the economic support. This was part of an agreement that the company had made in order to win approval to build three new stores in more affluent part of the city. The bait-and-switch is at best a public relations problem for a company that has traditionally derived so much of its income from low-income groups. It could be yet another sign of a leadership that has lost its vision.
Wal-Mart Stock Tells the Story
It's unclear whether all these factors point to a company that is in denial, or just in the dark. It is also worrisome at a time when so much change requires all retailers to operate at the top of their game. The retail discussion often focuses on the constant and ever-mounting threat from online retailers. Meanwhile, brick-and-mortar retailers also face the challenge of mounting pressure to raise the wages for hourly workers, and to navigate through an uncertain economic environment that could be headed into a recession.
At times like this, it is often the markets that offer the best insight into the future. And with Wal-Mart's once high-flying stock down more than 30% over the year, it seems that the markets believe Wal-Mart's troubles run deep.
These are crushing the Dow and S&P 500

Did you turn $2,000 into $12,785 in just three years? Or turn $2,000 into $15,305 in less than two? Maybe it's about time you discovered these market-crushing stocks. While most stocks earn on average 9%-10% a year, this small group of stocks earns 19% average returns every year. Don't miss out. Discover them right here.