The Wall Street Journal reports that the Nasdaq now has a trailing P/E ratio of 10.6, well off the 12.6 P/E ratio from a year ago, and a fraction of the index's lifetime average P/E of about 35.
This low valuation, typically seen in low-growth industrial companies and not in innovative technology firms, begets the question: are tech stocks the new value investment?
The technology sector is notorious for its highly speculative moneymaking opportunities. Over the years, the Nasdaq acted as a haven for matching aggressive investors with high-growth investments. If you wanted to embrace risk, then the Nasdaq was the place to be. Or at least that was the perception.
But that belief is not as true as it once was.
The truth is that while growth and speculative opportunities are prevalent in technology, the Nasdaq has become a beacon for value investors over the past five years.
That's right. Investors seeking low valuation and decent dividends are flocking to the Nasdaq. Unlike banks, the exposure to bad loans and defaults caused by the credit crises has not hurt the technology sector. These companies have great balance sheets with minimal uncertainty going forward.
After bottoming early in 2009, technology stocks went on a bigger rally than other sectors, in part because they are flush with cash. In many ways, the credit crisis that hurt so many businesses globally was a boon for the technology sector, as the chart below shows (the Nasdaq is the red line).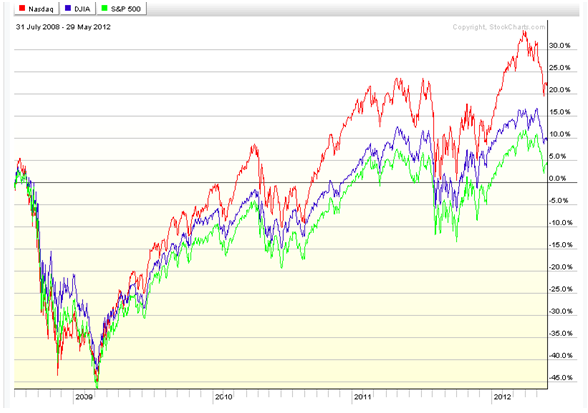 While just about every stock market index around the world has rallied over the past few years, very few have galloped back to their pre-crash 2007 levels. The Nasdaq is one exception.
Strong products and minimal exposure to debt were what separated technology companies from other businesses. That separation is likely why the Nasdaq was the first major index to eclipse the previous highs achieved in 2007.
Large-cap technology stocks have great brand names and solid business models. They also used the period between 2008 and 2010 to cut operating costs and increase profit margins. It was a double whammy for technology companies. Not only were they able to keep the prices of their products high, but they also cut costs that quickly resulted in record earnings beginning in 2010.
Because of sound managerial decisions, large-cap leaders in the technology sector have reduced their operating costs, carry pristine balance sheets and still develop products that foster high demand among consumers. And with interest rates at a historic low, they have access to cheap financing for expansion into growth economies in Asia and South America.
Technology will continue to expand and companies in the sector will grow. However, leading technology names are no longer the rapidly expanding businesses that they were in the 1990s. Many have evolved into mature businesses, and have become value stocks. Such mature value stocks have some inherent advantages for investors.
First, mature businesses tend to offer predictable earnings. As a result, stocks of mature businesses tend to be less volatile.
Second, these types of companies typically have a dominant market presence, which is one of Warren Buffett's lessons of successful investing.
Finally, mature businesses often pay dividends. They are able to do so because they aren't investing 100% of their free cash flow to grow the business. Due to their dominance, they are able to both invest in their future and share the wealth with their shareholders. This is perhaps one of the greatest differences between technology companies of today and those from a decade ago.
For investors seeking income investments, many mature tech companies can provide a dividend yield that is far superior to the 0.1% from a money market or 2% yield from the 10-year U.S. Treasury. Plus these investments offer the upside of stock price appreciation – something that you won't get from conventional "safe" investments.
This is a winning combination for investors, in my opinion. I see many undervalued tech companies in the market today and would recommend that traditional value investors strongly consider looking to the Nasdaq for their next investment.