It's not often these days that anything related to China is good news for investors, but Yum Brands (NYSE: YUM) shareholders received a modest 2.8% boost on Tuesday when the company announced plans to spin off its Yum China business into a separate, publicly traded franchisee.
The split is a win for activist investor Keith Meister of Corvex Management, who had called upon Yum management to shed its flagging China operations back in May. Meister, whose hedge fund owns a 5% stake in Yum, was also awarded a board seat in the company behind the KFC, Pizza Hut and Taco Bell brands.
The Yum announcement is also a win of sorts for Wyatt Research analyst Marshall Hargrave, who made the prescient call in the Oct. 14 issue of Daily Profit that a Yum China spinoff could be in the cards. And I'd be remiss not to mention that Marshall had advocated for such a move as far back as December 2014.
Virulent Valeant?
Meister's week was the mirror opposite of fellow activist Bill Ackman, the world's leading champion of Valeant Pharmaceuticals International (NYSE: VRX).
On Monday, the Canadian specialty drug company announced that it's shifting its business model from aggressive M&A deals to research and development. The strategic change came just weeks after Valeant shares fell 16.5% in a single day following news that the U.S. House Committee on Oversight and Government Reform had subpoenaed Valeant documents related to the company's practice of hiking prices on drugs from companies it had acquired.
Things got much worse for Valeant on Wednesday, following a scathing research report from Citron Research. Citron, which is short Valeant stock, claims that Valeant has been using specialty pharmacies to boost sales via phony customer accounts.
Ackman responded with a vote of confidence by buying another 2 million Valeant shares.
Valeant's trading line on Wednesday is a remarkable study in volatility. Opening price: $148.01. High: $148.66. Low: $88.50. Close: $118.61.
Valeant Pharmaceuticals' Wednesday Stock Performance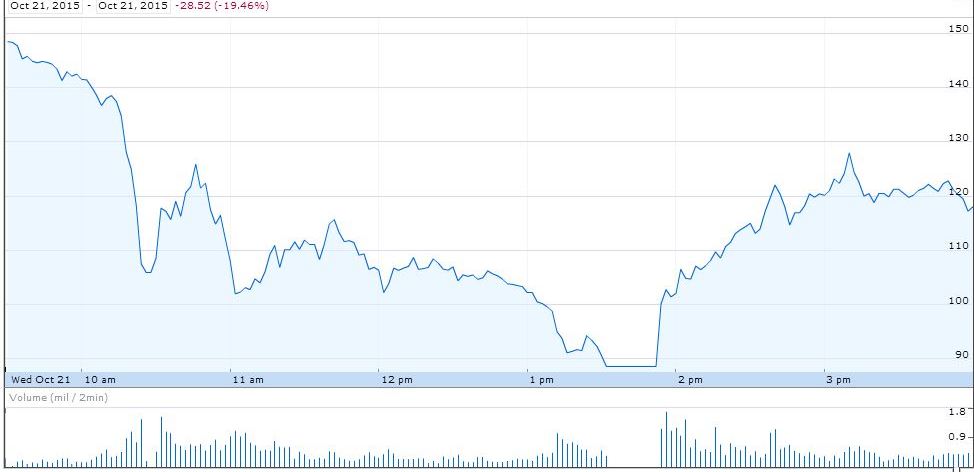 Source: Google Finance
While the BS detector in me is immediately skeptical of Citron's self-promotion of its Valeant exposé – "Citron Publishes the Smoking Gun!!" reads the subhead on the Citron website – I was also skeptical when Ackman declared in May that Valeant was "a very early-stage Berkshire."
The Berkshire he referred to is of course Warren Buffett's Berkshire Hathaway (NYSE: BRK-B). Ackman's comments coincided with a Forbes magazine cover shot which shows the baby-faced 49-year-old with arms folded, not a strand in his prematurely white hair out of place.
"Baby Buffett" was the moniker Forbes bestowed upon Ackman. In smaller print, the magazine cover proclaimed that "Wall Street's loudmouth banked over $1 billion last year." It added, "Now he's quietly creating the next Berkshire Hathaway."
As my colleague Steve Mauzy noted on Friday in a critical examination of the Ackman-Valeant dynamic, even Buffett has had his share of turkeys, such as the ill-fated Dexter Shoe Co.
But I keep going back to the verb choice in the Forbes cover: "creating." What was ostensibly a hagiographic magazine profile may have unwittingly hit upon the crux of the current kerfuffle: That Ackman – who now owns more than 21 million Valeant shares – manufactured the "next Berkshire" myth of Valeant as an up-and-coming conglomerate.
I think it's a bit extreme to suggest that Ackman had insider knowledge of the alleged Valeant violations. He's too smart an investor to risk anything more than share-price losses.
But should Citron's accusations prove to be even remotely true, Ackman stands to lose a lot more than the average billionaire investor.
Here are some of my other favorite Wyatt Investment Research articles from the week:
Warren Buffett's Dividend Stocks Are on the Fritz – The dividend yields the Oracle of Omaha has been collecting from the likes of Wal-Mart (NYSE: WMT), American Express (NYSE: AXP), International Business Machines (NYSE: IBM) and Procter & Gamble (NYSE: PG) have done little to offset the losses he's seeing from their stock declines. Since the start of 2014, all four of these stocks are negative, with a couple down 20%. To make matters worse, Wal-Mart shares cratered last week after the company predicted that profits will drop as much as 12% in its next fiscal year. Is Buffett losing his touch?
Making Sense of the Biggest Technology Merger Ever – The $67 billion technology merger between Dell Inc. and EMC Corp. (NYSE: EMC) says a lot about the future of the cloud computing space. It also says quite a bit about how Dell feels about virtualization software company VMware (NYSE: VMW).
Beer Merger Could Ferment Cola Wars – With the Bud-Miller rivalry seemingly put on ice with the pending "Megabrew" beer merger, the Coke-Pepsi cola wars might be ready to pop. Anheuser-Busch InBev (NYSE: BUD) currently has a bottling relationship with PepsiCo (NYSE: PEP). Meanwhile, SABMiller (OTC: SBMRY) has a bottling arrangement with Coca-Cola (NYSE: KO). While Bud Light and Miller Lite might learn to coexist under one roof, there will likely be only one cola winner.
Why Texas Instruments Is a Better Income Investment Than Apple – When you think of Texas Instruments (NASDAQ: TXN), you may think of an old stodgy throwback tech company. After all, aren't they the ones that make calculators? The truth is, the company has evolved tremendously over the years and is now a leader in specialized semiconductors and hardware. And Texas Instruments has a key advantage over Apple (NASDAQ: AAPL) in terms of the cash stored on its balance sheet.
Alphabet Earnings Beat Sends Stock Soaring – Alphabet (NASDAQ: GOOGL), the new parent company of Google, reported third-quarter results Thursday that beat expectations on both the top and bottom lines. Not only that, Alphabet also announced that it will repurchase up to $5 billion of its Class C stock – a first for the tech giant.
Will the 'Oprah Effect' Continue to Drive Weight Watchers Shares Higher? – Weight Watchers International (NYSE: WTW) shares doubled in price Monday on news that pop-media icon Oprah Winfrey had accumulated a 10% stake in the weight-loss company. Winfrey is obviously bullish on Weight Watchers. Does that mean the rest of us should be bullish too?
A Contrarian Investment Opportunity in Emerging Markets – Investors have had one reaction to emerging markets in 2015: They are running as fast as they can in the opposite direction. But as legendary investors Sir John Templeton and Warren Buffett have said, you have to swim against the tide most times to make real money in the stock market.
Ferrari IPO Is Off to the Races – The Ferrari (NYSE: RACE) initial public offering was priced at $52. Shares jumped as much as 17% during its stock market debut on Wednesday, before closing the first day of trading at $55. Should investors buckle up and buy?
Have a great weekend!