I spent this Independence Day in a small town near
the border of Chenango and Cortland counties in upstate New York.
My brother-in-law has a small cabin on a lake in the area, and we head up
there a few times a year for sailing, fishing, biking, hiking and
relaxation.
The area is currently engulfed in a debate about whether to allow natural
gas drilling.
It sits well within the borders of the Marcellus Shale formation, which is
believed to be one of the biggest reserves of natural gas in the entire
world.
You can see a map of the area by clicking here.
Many people in the area have signs on their lawns taking a side on the
issue. One popular yard sign reads "No Drill, No Spill."
Another says, "They said it was safe to drill in the Gulf
too."
My wife noticed a pro-drilling bumper sticker that said, "Pass Gas:
It's a Movement."
Many people have a rational fear that natural gas drilling could lead to
environmental hazards and could cause a poisoning of the water table.
The last time I was in the area, on 4th of July weekend last year, I spoke
with my brother-in-law's Aunt Charlotte. She's a retired schoolteacher who
has lived in the area her whole life. At the time, she strongly opposed any
type of drilling in the area, her reason being that she did not want her
tap water to be compromised by toxins from the drilling process.
It was an interesting conversation, because in the next moment, Charlotte
and I were discussing the then headline-making Gulf oil spill. Charlotte
and I agreed that it was a great time to buy shares of BP (NYSE: BP).
And as it turns out, we were right.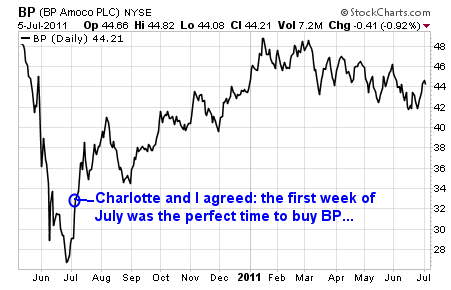 Had you bought shares when Aunt Charlotte and I recommended, you'd be
sitting on 35% gains, plus about a $1 per share in dividends.
So while Aunt Charlotte doesn't want anyone drilling in her backyard, she
sees the wisdom in investing in oil and gas drillers.
Now, I'm not calling Aunt Charlotte a hypocrite. I think she has the right
perspective on both fronts. Drilling in her backyard is a personal issue,
and she has to weigh the perceived pros and cons.
But the decision to invest in BP, or any other company for that matter,
should be based on sound investment research, not personal feelings as a
paramount concern.
Also notice that I'm not taking sides on the drilling issue in the
Marcellus Shale formation.
I actually believe that the people of New York have a right to completely
refuse drilling if they so choose.
But at the same time, I recognize the potential of the Marcellus, and I
believe there will come a time when it will be tapped, possibly even under
Aunt Charlotte's feet.
Will it contaminate ground water? I don't know. I suppose it could. I know
there have been some problems in the past with hydraulic fracturing, and
there will likely be some in the future. But from what I can gather, on the
balance it's actually a very safe and clean technique. As with most things,
it only takes a few bad apples to spoil the perception of the bunch.
I'd like to think that Aunt Charlotte will consider investing in natural
gas companies, even if they start drilling in her backyard.
And since I believe natural gas will play an important and growing role in
the United States, I think that the time is perfect to start picking up
shares of some select companies today.
I've long suggested buying shares of Hugoton Royalty Trust (NYSE:
HGT).
They currently pay an annual yield of 7%. When I first started recommending
HGT, the yield was closer to 11%. I still think HGT is a solid firm that
should continue paying royalties for years to come, but I'm more interested
in some other firms right now.
I'm focusing on royalty trusts right now because until the natural gas
trend really starts to take off, I don't think you'll make too much in
capital gains while we wait.
So instead, take a look at royalty trusts – so you can collect some income
while you wait for the capital gains to kick in.
One trust that looks interesting now – and has some longer term upside to
higher natural gas prices – is the San Juan Basin Royalty Trust
(NYSE: SJT).
You can read this company's last annual report by clicking
here now.
This trust has dozens of producing natural gas wells and has spare capacity
to take advantage of higher gas prices as they come.
It currently pays a 6.1% royalty rate, and I believe this rate will rise
along with natural gas prices. You can see how the distribution rate for
SJT has changed along with natural gas prices in the charts below. The top
chart plots the quarterly payouts, and the bottom chart shows the price of
natural gas: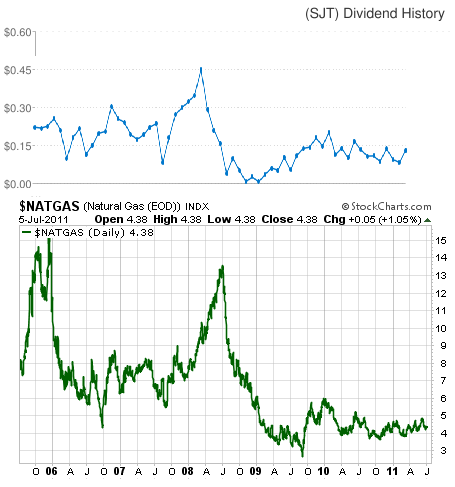 So if you're looking for a way to collect income, and like Aunt Charlotte
and I, you're interested in solid investments, take a look at SJT.