Gold stocks are in their worst funk since the market crash of 2008-2009.
And while that's great news if you want to buy them now, it's little solace if you've been holding on – waiting for a rebound.
You only need to take a look at the Amex Gold Bugs Index (NYSE: HUI) to see the carnage: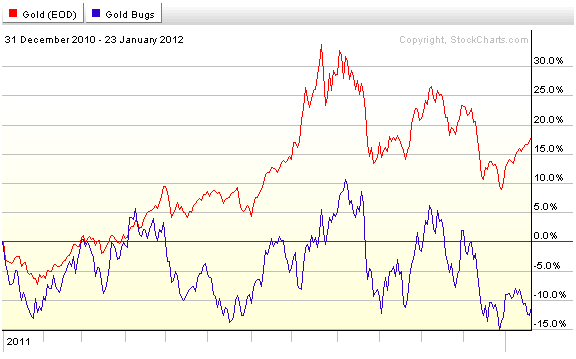 Gold is up over 15% for the past year, while the gold bugs index is down over 10%.
I've talked at length about this trend, and if you've been nibbling on gold shares over the past 6 months or so, I think you'll be handsomely rewarded before the end of this gold bull market.
But in the meantime, if you want to make any gains at all in the sector, you need to be very selective.
My colleague Jason Cimpl recently closed out a winning trade in a hidden part of the gold market.

Jason's been researching this sector for the past year – booking gains most recently in Minefinders (AMEX: MFN) even as the overall gold stock market has been drifting lower.
That sector? Mid-cap production stage mining companies.
You've probably heard of big mining giants like Barrick Gold (NYSE: ABX) and Goldcorp (NYSE: GG) – and these companies have a place in your portfolio. But as I wrote earlier, these big mining companies have been underperforming.
The same can be said of the more junior companies in the mining sector: the Market Vectors Junior Gold Miners ETF (NYSE: GDXJ) is down nearly 25% over the past year.
But the mid-cap miners, that is, companies between $800 million and $3 billion market cap – have more or less kept pace with the price of gold.
These companies experienced less volatility as a group than both large cap miners and small cap miners.
I'm not saying to go out and buy a basket of mid-cap miners. I think over the long term, the biggest gains will be seen in the juniors, and the safest gains will be seen in the large caps.
But for right now, I'm interested in what Jason has to say about the sector.
Jason just added another mid-cap gold miner. The stock is almost exactly as expensive as it was one year ago – except that gold sells for 15%+ more than it did this time last year, and a series of takeovers (Minefinders being the latest example) have put a floor under the price of productive mid-caps.
If you're interested in how Jason finds these companies, take a look at a brief write up by clicking here now.
Good investing,
Kevin McElroy
Editor
Resource Prospector