A birthday
wish
12 years of
nothing – or worse
Tunnel
vision for this investment
It's my birthday today, so I
apologize if this article is somewhat harried, short, or discombobulated.
I'm one year older, there's
one more grain of sand gone from the hourglass, but I have no reason to
complain. The weather is nice, I'm
healthy and there are opportunities to grow richer.
If I could
have just one birthday wish granted, it would be for every one my readers to
protect their bottom dollar by buying one investment today, this very moment. I don't know what will happen to stocks, the
dollar, the euro, but I do believe that there are steps we can all take to
protect ourselves from calamity in all three. More on this investment in a minute.
But for right this very
second, it's hard to be bullish on the broad market – as I've pointed out many
times in this letter; we're in the middle, and perhaps nearing the end of a
long-term secular bear market.
Don't believe me? Take a look at this 12 year chart of the
S&P 500: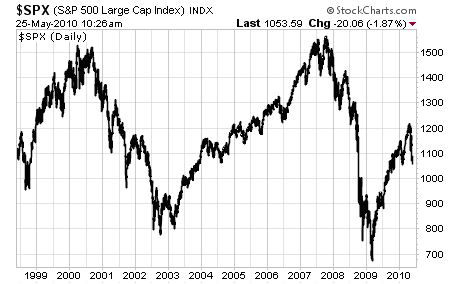 So the
broad market is about where it was 12 years ago. If you include inflation, that's more like a
20% loss.
But like I said yesterday,
there are some core companies that I think everyone should own – companies with
what I call "The Inevitability Factor." You can read yesterday's issue by clicking here.
Besides those companies, I'm
not terribly excited about owning huge chunks of the broad market right
now. When we start seeing some
"slap-me-across-the-face-with-a-bullwhip-obvious" signals that stocks are super
cheap, and in a sustained, fundamentally sound uptrend, only then will I start
eyeing the broad market.
For now,
I've got tunnel vision for an entirely different asset class.
I'm talking about
silver. I still like gold, of course,
but silver in particular has been beaten down into the dirt.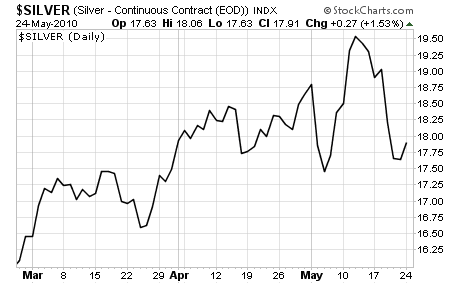 Right now, silver prices are
a full 10% lower than their recent highs. But unlike gold, silver is much, much lower than its historic highs from
the early 1980s. That's when silver
briefly topped $48 an ounce. Those are
nominal highs. Silver's inflation
adjusted highs would be closer to $130 an ounce.
That's a lot of built in
potential upside, and for that reason, along with some jitters in the broad
market, and a lot of fear about currencies in general, I'm very excited to be
buying silver today.
I'm also currently working
with my boss and Chief Investment Strategist Ian Wyatt, along with analyst
Jason Cimpl of Trademaster on a full report about the single best silver
company to buy today. I expect to have
this report finished sometime in the next few weeks, and it will be available
to Global Commodity Investing subscribers. You can click
here to take a trial subscription to Global
Commodity Investing which will ensure you're among the first to get all the
details about this company. This service
is not cheap, but that's why we offer a strong 60-day money back
guarantee.
In the meantime, I suggest,
as always, to get your hands on some physical silver, and to buy the best
silver companies you can find. Use dips
like the current one as opportunities to nibble, not gobble.
I'd also caution against
buying the Ishares silver ETF (NYSE: SLV)
because it provides neither the protection of the physical asset, nor the
upside of silver stocks. It's also taxed
as a collectible, not a security. Collectibles are typically taxed at 28% vs. the 15% capital gains
rate.
If you have a favorite
silver stock you'd like me to discuss in an upcoming issue of the Resource
Prospector, please drop me a line at [email protected].
And feel free to wish me a
happy birthday, as well!
Good investing,
Kevin McElroy
Editor
Resource Prospector