First off – I fully expect gold prices to rise substantially from these levels in the coming years.
And I get the feeling that you probably agree with me – otherwise it's not likely you'd be reading this letter.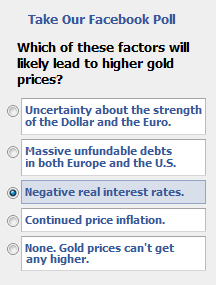 But in the interim, we should hope for lower gold prices.
There's a commonly held belief that in order for prices to go higher, they must go higher soon. Or that they must reach certain thresholds before reaching the next higher price. I call this belief the "ladder myth."
Don't fall for the ladder myth – we don't need higher prices now in order to sustain our belief in this precious metals bull market. Higher prices should make us less likely to buy – and more likely to sell. They should make us more leery of the bull market in gold, not more excited – because up until the day we sell our precious metals, higher prices only make it more expensive to add to our position.
In fact, we should hope and seek out lower prices to build our positions. Consider this quote from Warren Buffett as further confirmation:
"If you plan to eat hamburgers throughout your life and are not a cattle producer, should you wish for higher or lower prices for beef? Likewise, if you are going to buy a car from time to time but are not an auto manufacturer, should you prefer higher or lower car prices? These questions, of course, answer themselves.
But now for the final exam: If you expect to be a net saver during the next five years, should you hope for a higher or lower stock market during that period? Many investors get this one wrong. Even though they are going to be net buyers of stocks for many years to come, they are elated when stock prices rise and depressed when they fall. In effect, they rejoice because prices have raised for the "hamburgers" they will soon be buying. This reaction makes no sense. Only those who will be sellers of equities in the near future should be happy at seeing stocks rise. Prospective purchasers should much prefer sinking prices."
So we have to ask ourselves – when will typically be buying precious metals? For me, the answer is: "at odd intervals when I have the cash available."
And the secondly, we have to ask ourselves, when will we typically be selling precious metals?
The answer is, "Not anytime in the foreseeable future."
So we should hope for prices lower than what they are today. And then we should have the conviction to buy if/when those prices come.
That's really hard to do!
But if you can do it, and be excited about it, then you will maximize your gains when the time comes to pare your precious metals holdings.
To being excited about lower prices,
Kevin McElroy
Editor
Resource Prospector PRO