EMC Corp. (NYSE:EMC) has taken it on the chin this week thanks to a tepid earnings forecast from Cisco Systems (NASDAQ:CSCO) that cast some doubt on the near-term future of IT spending. The stock is down 9% from its May 1 close and 12.5% from an 11-year high reached in late March.
But is the selling now wrung out of the shares?
The chart suggests that it may well be. The last time the shares were this oversold (according to the RSI) came last August, right before a sharp 12% rally. And the daily chart shows strong support at the 26 level going back to the first half of 2011. So far this morning, this support is holding.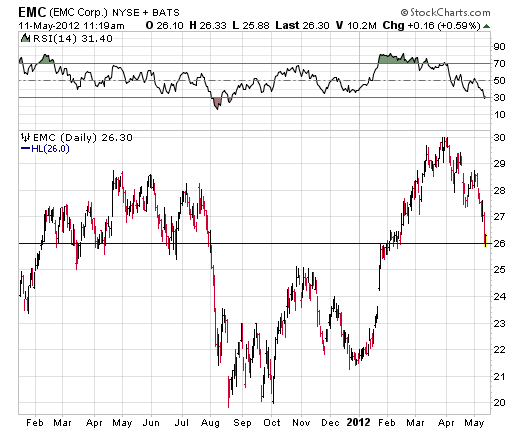 EMC reported earnings last month and, like Cisco, failed to blow the Street's hair back. Earnings and revenue were in line with estimates and the company reiterated its 2012 outlook that called for 10% revenue growth and a 14% increase in EPS.
Merely meeting and not beating is usually met with disappointment, especially in the hot tech space. But EMC is well positioned in the cloud computing arena and – with an 80% stake in VMware (NYSE:VMW) – virtualization software. With the stock looking a bit oversold and with chart support underneath, EMC appears poised to make another run at the 30 level.