March is here, spring is not far off, and overall futures are in the
green again. Manufacturing data (in the form of PMI surveys) in Europe
and in the U.S. are beating expectations handily.
Unemployment in Germany is at a 19-year low. And some are forecasting a
strong showing from U.S. Non-Farm Payrolls on Friday. Our unemployment
rate may have even declined a bit, but we'll need to wait for those
numbers to come out.
*****In the last six months or so, we've seen copper up 36%, cotton up
100%, wheat up 24% and soybeans up 42%. And it's hard to miss the price
gains at the pump.
Gasoline is now at a national average of $3.36 a gallon, with places like
San Francisco seeing some areas reporting just under $4.00 a gallon. (For
comparison, that national average was $1.90 just two years ago.)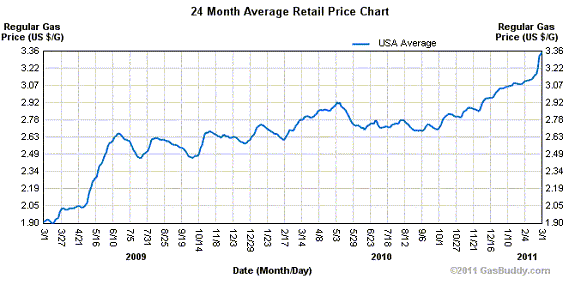 High unemployment and still falling housing prices are offsetting
commodity price gains in popular measures of inflation, like the CPI.
As one BlackRock (NYSE:BLK) money manager told Bloomberg:
"These commodity price increases are staggering…Each commodity is
different, but there is a supply issue for oil. There has been real
economic demand for these commodities since the economy began
recovering."
There have also been floods and droughts around the world, which have
lowered grain production and pushed agriculture prices higher. A stronger
U.S. dollar won't stop price rises in commodities with skewed
supply/demand fundamentals.
Of course, that's not really the issue. The impact of interest rates at
zero will create imbalances. And the root cause isn't an excuse to
minimize or ignore a rising CPI.
Interestingly, it could be that rising housing prices will push the CPI
into dangerous territory. Now, we're clearly not in any danger of seeing
housing prices rise anytime soon. However, it could happen later this
year.
I think there's no doubt that most investors would interpret improving
home prices as a sign that the economy is truly getting healthy. And that
could be the exact moment that the Fed has no choice to start hiking
rates.
*****I understand that Fannie Mae is starting to get more of its FHA
foreclosures onto the market. I suspect there will be enough supply
during the spring home-buying season to keep prices in check.