A slow economy and high unemployment has weighed on retail companies this past year. Despite spurts of promising data, a rally in retail stocks could not materialize after several attempts.
One of the more beaten down companies is Abercrombie and Fitch (NYSE: ANF), which lost half its market value from the October peak.
Despite looking stable in May (forming a cup with handle), weakness in the market and across the retail sector dragged ANF to new lows near $29. The stock appears stable once again and there are signs that a bottom may be near.
There are certainly plenty of headwinds to consider. Sales guidance has been weak and there's been a shift by consumers to low-end apparel. But recent reports from retailers have been positive. GAP (NYSE: GPS) and Ann Inc. (NYSE: ANN) reported strong quarterly results, and a U.S. retail sales report beat expectations with a 0.8% advance in July.
The positive results from competitors and the better than expected retail data spurred a rally that took ANF from $28.64 to $36.25. Volume was also high during the rally, indicating conviction among buyers.
The shares are rapidly approaching the $38 resistance level (blue line). It will be interesting to see if the momentum gained over the past week will be enough to break this area.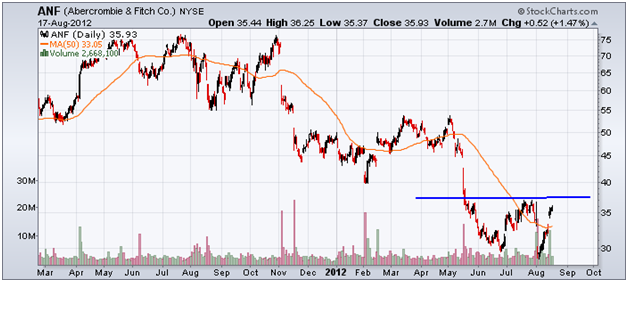 In the near term, I expect $38 to contain the buying pressure. However, ANF took back the 50-day moving average (orange line) during this latest rally. Stocks that are above the 50-day moving average are often in bullish trends.
The shares will eventually break out past $38 so long as buyers can protect the 50-day moving average. The target after such a breakout is $45, or about an 18.5% advance.
Investors should consider taking half their position as ANF pulls back to the 50-day moving average. The second half can be taken as the shares break out past $38. Total gains on the trade should be near 20%. ANF also pays a 2.2% cash dividend.