Alpha Natural Resources (NYSE: ANR) and fellow coal miners have not built any positive momentum during the past year. In fact, many coal stocks have been declining for the past two years.
The coal mining industry performed terribly in 2012. As a group, it returned a negative 21%.
Though 2013 started with a bang for the major indices (up more than 2%), the same couldn't be said of most coal miners. In particular, ANR tumbled 1.4% in the year's first session.
More declines may be ahead for this coal miner, too. It has had a dreadfully difficult time eclipsing $10. In fact, rally attempts have stalled at that area five times in the past six months (blue arrows).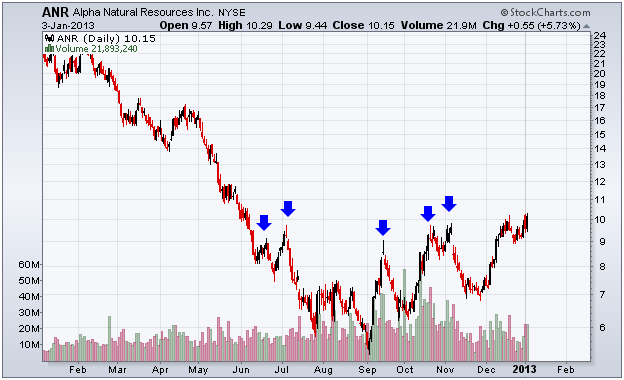 This chart shows the price of ANR shares along with an important resistance level to monitor.
Republicans are often the biggest supporters of coal power, and thus coal miner stocks. The decline of ANR could be a reflection of the growing divide within the Republican party, which also lost a portion of its power to the Democrats in the recent election.
In addition to the lack of political support, coal has been unable to compete with unusually low natural gas prices. Not only is natural gas cheaper than coal, it's cleaner and extremely abundant. This combination has resulted in a fall in coal demand, which depressed prices. The latter hurt coal miners the most – many of which are unprofitable mining and selling their coal at such low rates.
Congress has bigger worries than the coal industry. Moreover, natural gas demand shows no signs of slowing. Natural gas has replaced coal in many power generation and steel production processes. Though I don't expect another horrific year for coal miners, I don't expect appreciation either.
ANR started the first day of the year down, and investors should expect that selling to continue in 2013. Only a move above $10.50 would get me excited to own ANR. However, I suspect the highs of the year may nearly be in for this coal miner.
Equities mentioned in this article: ANR, UNG, KOL
Positions held in companies mentioned above: none