There is no shortage of opinion regarding who will win the upcoming election. And there is no shortage of debate on which candidate — Barack Obama or Mitt Romney — has the best policy ideas.
But regardless of which way you lean, all the debating is creating as uncertain a policy environment as our country has ever faced. And it poses a bigger threat than the "wrong" candidate moving his bags into the White House.
Lack of direction on health care, defense spending, energy policy, U.S. fiscal policy … the list goes on … is always high preceding an election. But recently it's become a multi-layer cake that defies description.
Take a look at this chart of The Economic Policy Uncertainty Index, the brainchild of economists Scott Baker, Steven Davis and Nick Bloom. It shows a steady increase since 2006, and right now is at the highest level since the 2011 debt ceiling debate (marked by 'N' in the chart).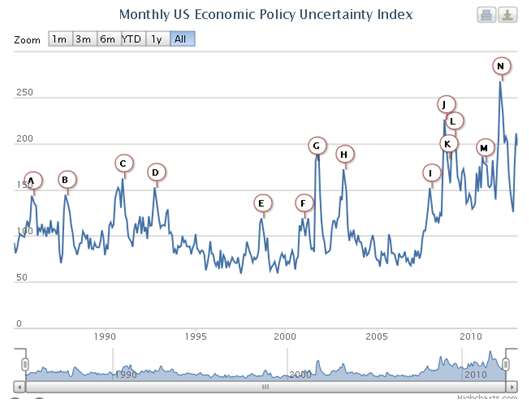 This index measures three things:
1. Newspaper coverage of policy-related economic uncertainty
2. The number of federal tax code provisions set to expire in future years
3. Disagreement among economic forecasters
Think about it – when nobody knows what to expect, economic activity stalls. People might not buy a car, refinance a house, buy a house, fix the house, get a better job, get a job or go back to school. And businesses may not invest in growth initiatives, divest sluggish divisions, hire good people, fire bad people…
You get the picture. When you don't have any idea what's coming, you don't know which way to move. So the status quo persists.
Right now, two of the biggest uncertainties are health care and the U.S. "fiscal cliff," which boils down to payroll taxes and defense spending.
For the thousands of companies with future revenues that hang in the balance, some direction is needed. For investors, this uncertainty can present an investing opportunity.
Take health care, for just one example.
There is a huge demand for strategic and best practice guidance in the face of regulatory uncertainty, cost pressures, a move to electronic payments and an aging population that demands more care than ever before.
The Kaiser Family Foundation estimates that U.S. healthcare expenditures in 2012 were $2.6 trillion, a 10-fold increase since 1980. Since 2001, employer-sponsored health coverage costs have risen more than 110%.
These are staggering numbers. If you were CEO of a health care company, you'd probably be hiring some consultants. Investors can jump on this trend by simply investing in the consulting companies.
Consulting companies come in all shapes and sizes. They exist for nearly every industry out there, from health care to energy policy. There are a number that are publicly traded – probably the best known being the IT powerhouse IBM (NYSE:IBM) – which is trading just below an all-time high.
Most of the good ones have reoccurring revenues because they sell subscription products that renew annually. These reliable revenues help give stability to the company and to shareholders, and provide consistent cash flows.
In a time when uncertainty is high, companies that provide a little direction to their clients can also serve as a safe haven for investors. The best ones will see their values increase regardless of whether Obama or Romney wins in November.
P.S. Right now I'm recommending a health care consulting company to Small Cap Investor PRO subscribers. Its client list reads like a who's who of healthcare research and care providers, including the Mayo Clinic, Johns Hopkins, the Cleveland Clinic and Massachusetts General Hospital.
All told, the company's client base includes well over 3,000 institutions and 99 of the 100 largest healthcare systems – and they all need at least a little help whether Obama or Romney wins the presidency. Click here to learn more.