This misconception trips up more investors than any other. That is, great companies equal great investments.
I was reminded of this misconception a week ago when listening to an interview James Grant, respected journalist and market pundit, gave to RT.com. In short, Grant was lamenting the misunderstanding of haven investments.
Grant's critique of haven investments jogged my memory. I've called out so-called haven investments in past commentaries, citing U.S. Treasury securities as being anything but havens. These securities not only fail to maintain purchasing power, they are guaranteed to get killed when interest rates start creeping north.
Many investors view popular companies as haven investments. If it's a great company, then it must be a great investment.
That's simply not true, and I've pointed out three great companies that I see as being misconceived as great investments.
Few companies have gotten things as right for as long as Apple Inc. (NASDAQ: AAPL). For the past five years, Apple has had the proverbial Midas Touch: everything from iPads to iPhones has turned to gold.
When it comes to growth, Apple appears to be on automatic pilot. In the most recent quarter, it reported EPS of $9.32, a 19.6% increase over the $7.79 reported in the prior year. Revenue rose to $35.02 billion, a 22.5% increase over $28.57 billion in 2011.
Google (NASDAQ: GOOG) also appears to have a "can't miss" business model. Is there anyone who doesn't use Google for an Internet search? If there is, I haven't met him, nor do I expect to.
According to market information compiled from seoMoz, Compete, Nielson-Net, and Alexa, Google accounts for 87.6% of global searches. Microsoft's (NASDAQ: MSFT) Bing is number two at 4.2%. Google's economic moat is so wide and deep, it could be a decade before any company comes close to traversing it.
Even though it might have been the most over-hyped IPO ever, Facebook (NASDAQ: FB) is a great company with a great franchise. A Facebook page is a must for any business. For individuals, it's an indispensable tool for interacting with family, friends, and business associates.
Facebook's share of social network traffic stands at 62%, up from 8% just four years ago. In the past quarter alone, Facebook's revenue increased 44.7%, which has helped push trailing 12-month revenue over $4 billion.
Three great companies. Three great franchises. But I don't see any of them as great investments.
I've written previously why I think Facebook isn't a good investment. The IPO was simply priced too high. In other words, it was set at a level that priced in too much future performance.
I think that's also the case with Apple and Google. Both are great companies. But their share price reflects their greatness. I mentioned that Apple posted nearly 20% EPS growth and 22.5% revenue growth. Problem is, investors were expecting 32% EPS growth and 30% revenue growth. The day after Apple reported its quarterly results its shares dropped nearly 5%.
The problem with investing in great companies is twofold: 1) everyone knows they are great, and 2) greatness is hard to sustain in a competitive market. Investors get mesmerized by the former, which causes them to overlook the latter.
Here's another variable they overlook: If everyone knows a company is great, where will the marginal investors come from? In other words, who on the sideline is going to jump in and buy? Most investors interested in a great company have presumably already bought the stock. That means there are fewer investors to keep the momentum going.
A decade ago, Microsoft and Yahoo! (NASDAQ: YHOO) were the Apple and Google of their day. In contrast, Altria (NYSE: MO), the maker of Marlboro, was considered dead in the water because of litigation and regulatory concerns. Over the subsequent decade, Altria has beaten both former tech stalwarts. In fact, over the past five years, Altria has smoked them.
Price Performance of Altria, Microsoft, and Yahoo!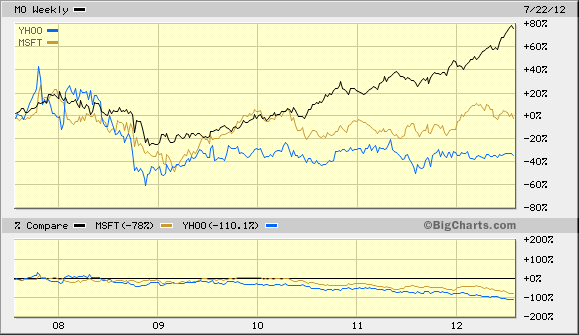 Many investors think little of Altria, or are simply leery of its business. Therefore, when it performs, there are more marginal investors who help move the price higher.
As for my own thoughts on Altria, it's tough to dislike a stock that regularly returns 20% year after year. Since being added to the High Yield Wealth portfolio this past September, Altria has returned 35%.
There are few haven investments out there. But I would slot Altria into that category, because it's a good (not great) company that is frequently priced to produce a great investment.