The relentless, ongoing rally that has been ongoing since mid-December has now pushed the Rydex family mutual funds up to historic levels.
The chart from acclaimed analyst Jason Goepfert displays the Bull Ratio for all of the Rydex funds.
As you can see the Rydex All Index Bull/Bear Ratio has moved above 4.0 which indicate that for every $4 invested in a bullish fund there is $1 invested in inverse or short-biased funds. The only other time this has happened was May 2, 2011.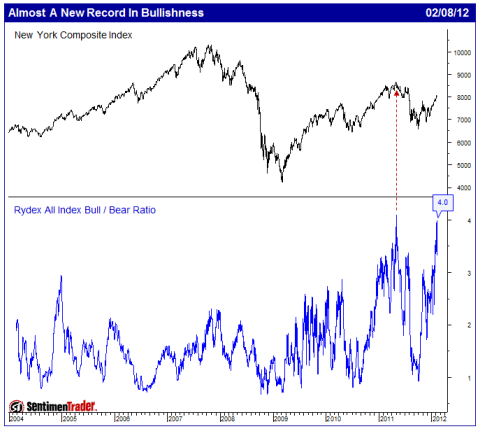 Conveniently enough SPY is back at the highs of May 2. Will the market's fate be the same and turn sharply lower or will it continue to surge higher? Probabilities say, the former.