The Federal Reserve finally hiked interest rates. After a seven-year run of near-zero interest rates, the Fed raised the federal funds rate to a range of 0.25%-0.5%.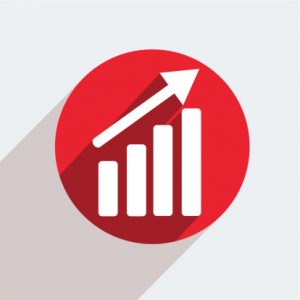 The hike is bad news for some dividend stocks, as government securities will lure investors away from equities. However, there's a bigger trend at play with the rate hike.
The U.S. dollar has been strong for several years now. The U.S. government has remained the best place to invest despite the stagnant growth. And with higher rates, more people will be looking to invest in the U.S. economy. This includes investors that are currently invested in emerging markets and other low-yielding countries. And what that will do is push the dollar even higher relative to other currencies.
That's bad news for multinationals like McDonald's (NYSE: MCD) and Wal-Mart (NYSE: WMT): the money they make overseas will translate into fewer U.S. dollars.
The easiest way to play the further strengthening of the U.S. dollar is to stick to companies operating almost exclusively in the U.S. I've talked a good bit about the strong dollar in the past, namely at the start of the year, when I offered a number of small-cap picks with exposure to various industries.
Circling back around to today, the best plays look to be in the mid-cap space, in particular the health care and tech-related industries. These mid caps will trade on the ability of the U.S. to continue growing and will be less impacted by currency issues. And a Fed hike signals that the economy is growing, with gross domestic product on the rise at a suitable level and unemployment on the fall.
With all that in mind, here are the top three growth stocks that will benefit from a Fed hike:
Centene Corp. (NYSE: CNC)
Centene is a $7 billion market cap managed-care company. It is one of the largest players in this managed-care space, with large scale and systems in place. Centene is also mainly U.S. focused.
Despite a solid start to the year, shares have fallen 22% over the last six months. The stock got sold off earlier this year when almost all the health care services stocks were dumped due to the concerns over Obamacare tailwinds wearing off.
The key is that Centene is focused on Medicaid, so it's been benefiting by the fact that more states are pushing more people through the Medicaid system to cut their own costs. And Medicaid plans are still growing thanks to Obamacare.
H&R Block Inc. (NYSE: HRB)
H&R Block is a $8 billion tax software company. It's not a sexy business, but it's a steady one. However, the worry is that TurboTax and other competitors are eating into its market share.
Thus, despite offering a solid 2.4% dividend yield, shares are up just 2% year-to-date. Still, the company has turnaround potential for next year and it's still churning out an impressive 23% return on invested capital. Higher employment and the complexities of the Affordable Care Act should be tailwinds for H&R Block attracting new customers this tax season.
Snap-on Inc. (NYSE: SNA)
Snap-on is a small-tool maker with close to a $10 billion market cap. The company has had a good year, with shares up 31% over the last 12 months.
The company makes a variety of tools for the auto industry, which is a great industry to service, given that we could see a record year for car sales in 2015. Nonetheless, Snap-on is more than just tools. It also offers software to help keep up with the changing times – i.e., the shift toward more technologically advanced cars.
Let's not forget that the average car on the road is more than 11 years old and Snap-on benefits from people working on cars. Now, Snap-on isn't entirely a U.S.-focused company (about 70% of sales come from the U.S.). It also operates in Europe, but the key is that the tailwinds there – which includes more miles driven – should offset any currency headwinds.
It also offers a 1.4% dividend yield.
In the end, how quickly the Fed hikes rates is anyone's guess, but the three companies above are poised for growth in 2016.
This will change your life forever

A new technology is arriving in America right now. It's already transforming numerous industries—and threatening to completely upend many more. Not only does it promise to save countless lives and trillions of dollars, it's also going to make life much, much more pleasant for you. Even better: it can also make you a heck of a lot of money. But you better act fast—it's only a matter of time before this technology reigns supreme, not just here in America, but around the world. Click here now to discover it.