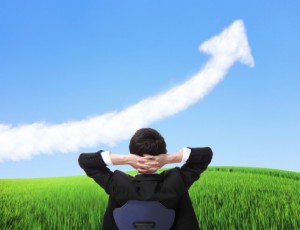 Good morning and happy Saturday! On Thursday, the Dow Jones Industrial Average, S&P 500, and Nasdaq all hit a record high. The last time the three popular indices set new highs on the same day was Dec. 31, 1999.
Stocks continue to march higher, in spite of skepticism from many investors. With stocks in an uptrend, it's important to remember that "the trend is your friend."
At the same time, it's crucial to acknowledge that stocks are fully valued at these levels. So unless the outlook for the economy and markets justifies a re-valuation of stocks, it's hard to imagine considerable upside from these levels.
The fact is that nobody knows where stocks will go next week, next month or next year. And that's exactly why this unique income strategy could hand you huge gains . . . no matter what happens to the stock market.
I'm hosting a live investing event next week. Attend and you'll discover how you could collect 5% to 60% payouts in just one day.
It's 100% free for Daily Profit readers to attend. Just click here to RSVP right now.
Collect 5% to 60% Dividends
Free Event – Click Here to RSVP
This weekend, I've put together four exclusive income training videos. These were released to a select group of our customers . . . and I'd like to give you access too. Please note that these go offline on Sunday at midnight.
Exclusive Videos: Your 48-Hour Access Pass
Video #1: The Simple Put Selling Strategy: Earn 5 – 10% in Just 30 Days

Video #2: Start Trading the Hidden Bull Market
Video #3: How to Trade Iron Condors and Earn 15% Every Month

Video #4: Weekly Options: Quick 12% Profits in Just 7 Days
This Week's Favorite Market Analysis
Real estate has been a top-performing asset. Will this income investment keep beating the market, or is it time for a slowdown?
It is cash rich, and just increased its dividend by 10%. That makes this dividend growth stock one of my top picks in the tech sector.
Collect $500 in Dividends in the Next 30 Days
You're invited to attend an exclusive investment event with Steve Mauzy and Ian Wyatt. Attend and you'll discover the No. 1 income strategy for 2016. Click here to RSVP  ̶  it's 100% free.
I Screwed Up…And Only Made 50%
Discover how my biggest mistake turned into a huge win . . . and the No. 1 lesson that could help you avoid this very common investing mistake.
Better Than Gold or Silver  ̶  Buy This Precious Metal Instead
Gold is by far the most popular asset for precious metal investors. Silver is the second most popular. But this investment is a superior investment today  ̶  learn why.
This is the cutting edge of medicine. Read about it here right now, before this story goes mainstream.
Don't wait another minute!
Click here to RSVP for my live event. It happens Wednesday at noon Eastern / 9 a.m. Pacific. Registration is completely free.
Save