It's a tough business chasing trends. American Eagle Outfitters (NYSE: AEO) has had a series of hits and misses over the years, which have made for a bumpy ride for investors. This week the American Eagle earnings report for the third quarter showed that the retailer is once again getting the trends right for the teens and young adults who shop at its more than 1,000 retail stores.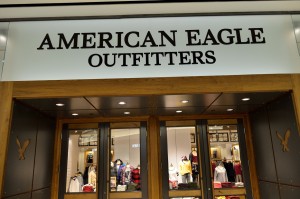 Good news for the company, certainly. But for investors, that's another question.
If you're an investor who believes in buying and holding stocks for the long term, buying the stocks of retailers can be a difficult case to make. That's mainly because retail is so strongly built around trends.
This pressure to define the next trend is somewhat different from the pressure businesses in all industries face to innovate. Fashion trends are not born out of developing a product that is bigger or better or faster. Rather, they are just about making something that's new and different from the last trend. This pressure, of course, is particularly strong for those retailers that are selling to younger consumers.
American Eagle Earnings Spot-On
The American Eagle earnings report for the third quarter shows a company that is getting it right. Its revenue rose 8% to $919.1 million, while consolidated same store sales rose 9%. American Eagle's third-quarter operating income rose to $109 million from $74 million in the year ago quarter.
Aside from these strong numbers, the company offered other indications that it has thoroughly examined its operations and adjusted its strategy to better align with the under-25 market it serves. It named interim CEO Jay Schottenstein to the position of CEO, underscoring that it is happy with the current leadership its put in place since Robert Hanson abruptly departed earlier this year.
American Eagle also opened 12 new stores during the quarter, compared to just one closure, suggesting it sees strong growth in demand. And a significant increase in selling, general and administrative expenses was attributed to more aggressive digital marketing, which seems to be paying off.
In short, there is just not a lot not to like about American Eagle's third quarter.
The Risk in Changing Fashion Trends
But a strong third quarter does not necessarily make for a strong year or a strong decade – certainly not in the youth apparel market where oversized tunics replace tight t-shirts almost overnight.  These whims could be why rival The Gap (NYSE: GPS) has compiled so many brands from Old Navy to Banana Republic under its corporate umbrella. There's power in multiple brands to offset each other from season to season.
American Eagle, with a much narrower band presence, risks being hit hard when it gets the trends wrong. The company had its heyday back around the middle of 2012, but shortly after that seemed to have become a victim of its own fashion and its shares tumbled by more than 50% over the last year.  To American Eagle's credit, it has been pretty dogged in working to rebound, but it has a history of ups and downs.
So while American Eagle's third quarter was undeniably strong, this is a stock best suited for investors who are comfortable with wild rides.
You Could Collect Dividend Income Every Month!
We've put together a simple calendar that pulls together all the market's best dividends into a single, easy-to-read document. One look, and you'll be able to set up a 12-month dividend stream for regular income every month.
Click here to see the full details.