There are many public relations crises from which companies can recover. Some crises take longer than others, and it often depends on the skills of the crisis PR firm that is hired to tackle the issue. Nor will a crisis necessarily vanish in one fell swoop. Sometimes it may slowly die away.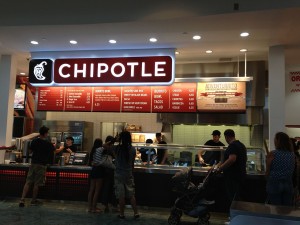 Sometimes, the catalyst for the crisis goes away and the crisis itself blows over, but there are lingering effects. Chipotle Mexican Grill (NYSE: CMG) stock is stuck in exactly this situation.
Ever since the E. coli issues that hit the stores, Chipotle stock has been under pressure. The outbreak hit on Oct. 19, and the stock is down 34% since then. Yet even though the Centers for Disease Control and Prevention declared the all-clear on Feb. 1, Chipotle stock has gone nowhere, and is down 3%.
And there's a long way for it to go.
Consumer Perceptions

Think about your own behavior with the Chipotle situation. It's time for lunch. You have certain go-to choices, particularly if you are at work. Many business people go to lunch in groups. Somebody says, "Chipotle." A few may agree but a majority say, "Gee, I don't know." That's enough to spike the idea, and probably for weeks.
Despite the outbreak, Chipotle's fourth-quarter free cash flow was still about $19 million, although that may not be the case in the first quarter or for fiscal year 2016. Still, the massive cash hoard defeats any negative free cash flow disasters. Despite a 20% decline in revenue for the fourth quarter, Chipotle still generated a $67 million profit. It also remains to be seen if that holds up, seeing as how the Chipotle "free burrito" offer is expected to cut into a sixth of company revenue.
How to Value Chipotle Stock?
The problem for investors is how to value Chipotle stock, since growth estimates have to be thrown out. The long-term effect, I believe, is that Chipotle won't see those 30% year-over-year net income gains anymore. It's possible that this level of growth will return, but it all depends on the extent of the long-term damage. It sure doesn't make sense to open a bunch of new stores if confidence in the product isn't there.
There is good news. Chipotle has a fantastic financial sheet. It sits on well over $1.2 billion in cash (including short- and long-term investments) and thankfully has absolutely no long-term debt. Were this a debt-heavy company that needed cash flow to pay interest, it would be in a world of trouble.
It isn't, though. So it can afford to have a couple of lousy years as it rebuilds customer loyalty and still be in fine shape financially. It won't lose money this year or next. It just won't make what it had been making.
Do you pay 10 times earnings per share for a company in this situation? 15 times? Analysts expect Chipotle to earn $13.58 per share in FY17, which is about $400 million, and below the $445 million of FY14.
The present valuation for Chipotle is $13.8 billion, or 34 times earnings. That seems way too high right now. Given the risk, I can't get involved at $460 per share. I can't get involved for anything more than half that price.
This Is Making Ordinary People Rich
Ordinary people across America are getting insanely rich. Take Gladys Holm. She never earned more than $15,000 a year as a secretary. But by making one simple move, she was able to leave an $18 million fortune to a children's hospital when she died. There's many more just like her.
Find out how they did it right here.