It's that time again: Earnings season is here. It's time to make money when the biggest profits often happen overnight.
Second-quarter earnings season kicked off this week. First, the big bank stocks like JPMorgan Chase (JPM) and Wells Fargo (WFC) took center stage this week.
But there are many more opportunities to come in the next few weeks. That's why earnings season spells opportunity for consistent, quick profits.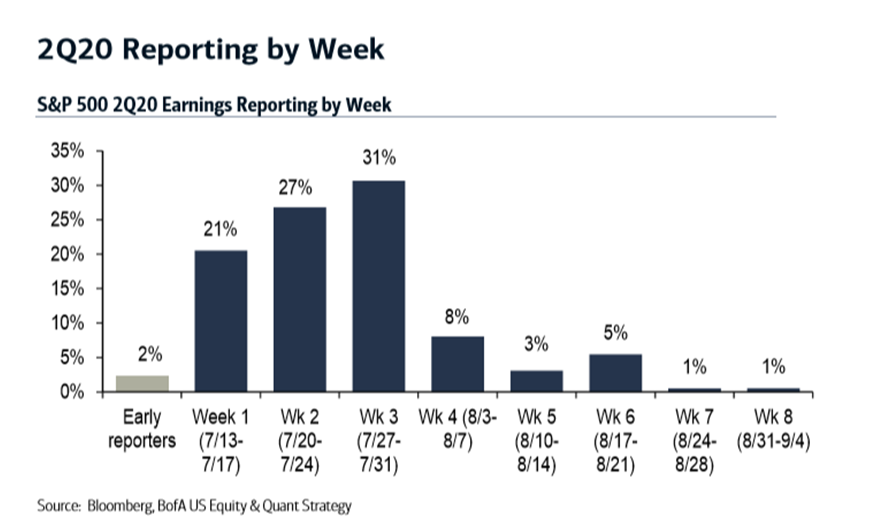 As you can see above, we're just getting warmed up. Twenty-one percent of S&P 500 companies reported this week. And over the next two weeks, another 58% of S&P stocks will post results.
That's the good news: We're only starting this target-rich environment for making quick gains, often overnight.
The bad news is that investors are bracing for the WORST earnings season in more than a decade. But even so, this is actually good news in disguise.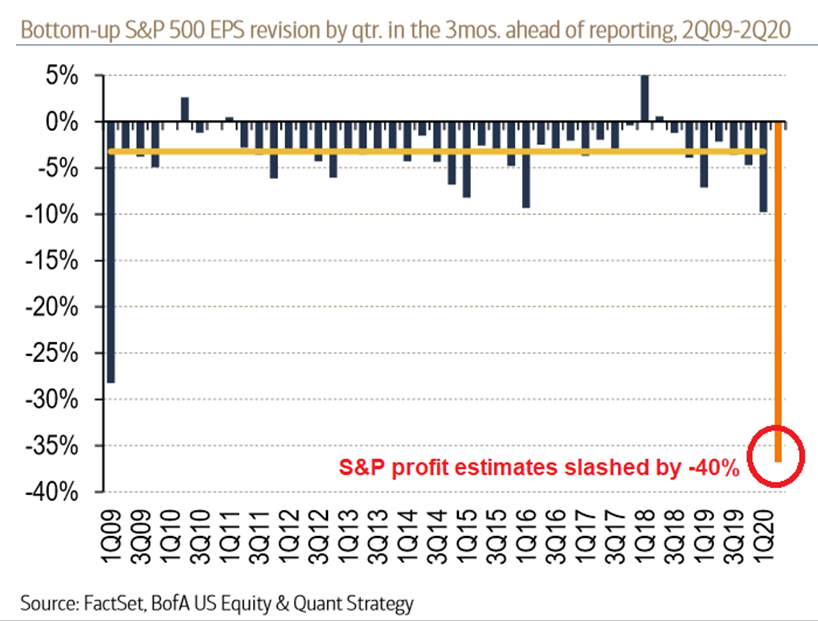 As you can see above, Wall Street analysts have been busy cutting S&P 500 earnings estimates . . . slashing them to the bone is more like it. Click here to see how you can profit from it.
In fact, profit estimates for this quarter have dropped 40% over the last three months alone. S&P 500 earnings are forecast to fall 40% year over year. This is due to the Covid-19 disruptions impacting corporate America.
But as I mentioned, this is actually good news and here's why.
You see, the bar has been set incredibly low. That makes it easier for companies to beat the low-ball forecasts. And that's exactly what JPMorgan Chase did this week.
There's another reason why bad earnings is good news. Stocks can get pretty volatile during earnings season. Earnings beats get rewarded with big stock price gains. And earnings misses get punished.
But hit or miss, it doesn't really matter.
You can profit either way from the high volatility during earnings season. That's where the quick overnight profits come in. And more volatility equals more opportunities for quick gains!
My colleague, Andy Crowder, came up with an earnings season strategy that's been a winner for years. These are fast trades, they happen overnight and the results are amazing.
In fact, since 2017 he's up a total of 826.1% on overnight trades, beating the S&P 500 Index by 33-to-1 in the process! Go here for all the details on this amazing earnings season strategy.
With overnight trades you can boost your success rate to profit from 79.3% of your trades by getting in and out fast, overnight.
Andy put together a briefing to show you how to do it here. In it, you'll see how you could start with $5,000 – and turn it into $2,825,856 in less than three years, thanks to overnight trades.
Click here for the urgent details.
Good investing,
Mike Burnick