Third quarter earnings reporting season is just around the corner and I'm expecting plenty of positive earnings surprises (click here now to cash in). Here's why.
S&P 500 earnings estimates are on the rise. And not just be a little bit, but by a LOT. After the Covid-19 pandemic tanked the stock market in March, Wall Street analysts did what they always do: they overreacted.
Analysts were quick to slash 2020 earnings estimates to the bone. They even took a sharp knife to 2021 profit estimates. And S&P 500 profits did fall sharply year over year during the first and second quarters..
But second-quarter earnings were a lot better than expected. We saw more positive than negative surprises. And profits beat estimates by a very wide margin.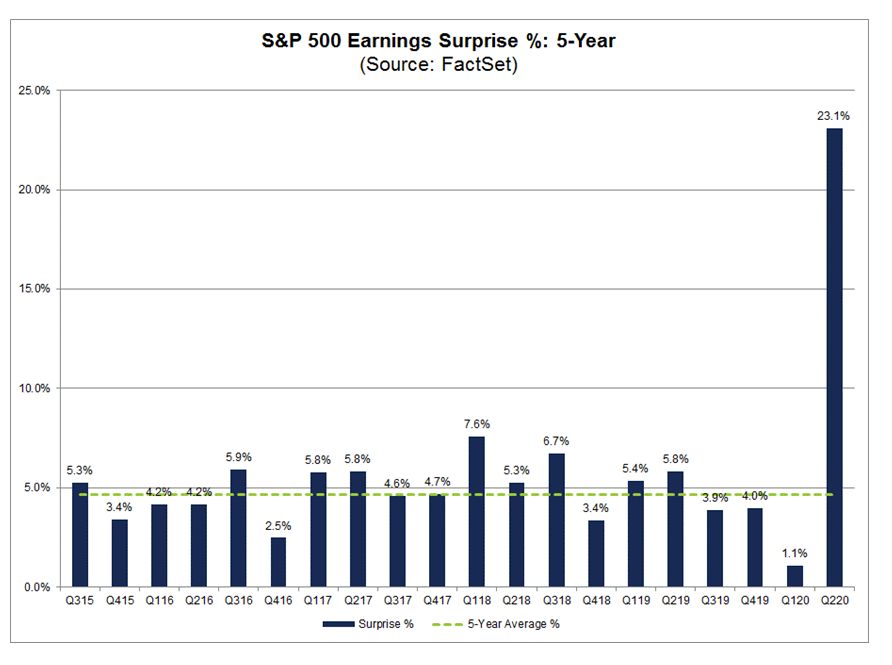 In fact, 84% of S&P 500 companies beat Wall Street's lowball estimates last quarter.
Go here to cash in on the next batch of earnings season trades.
That's the biggest crop of positive surprises EVER recorded. And companies didn't just beat by a penny or two either. They crushed it!
S&P 500 companies in aggregate posted profits that were 23.1% above estimates.
The analysts overreacted, plain and simple. They cut S&P profit estimates too much,  creating all those big surprises.
Well, it's all about to repeat when third quarter earnings reports start rolling in next month.
And you can be perfectly positioned to cash in and profit from the positive surprises in third quarter earnings.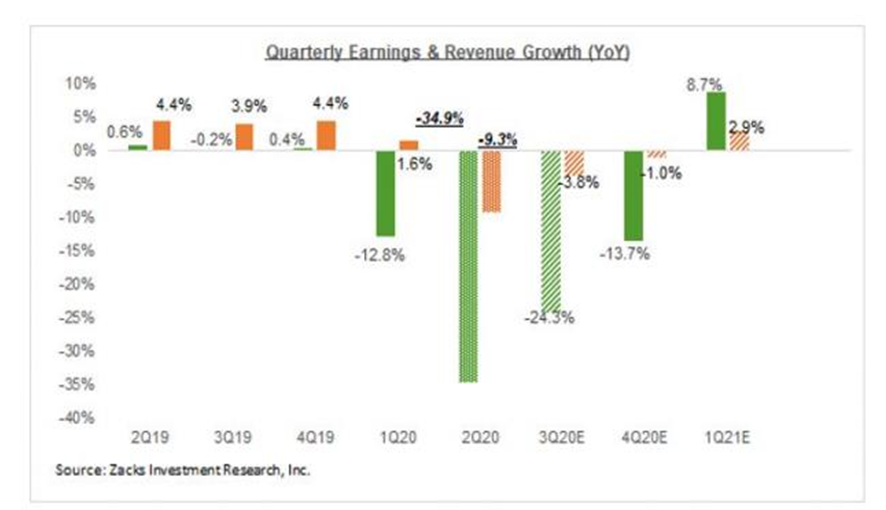 Look, according to the numbers, S&P 500 earnings are expected to reach $146.42 per share over the next four quarters. That's UP nearly 10%, or $12 a share, from the May estimate of only $134.75 per share back when stocks were just recovering from the Covid crash.
And S&P 500 profits are expected to turn positive. Analysts estimate they will post 8.7% growth during the first quarter of 2021, as you can see above. That's just over three months from now.
Bottom line: When third quarter earnings reports start rolling in a few weeks from now, I expect another bumper crop of positive profit surprises.
My colleague Andy Crowder developed an earnings season strategy that's tailor-made to profit from it, often overnight. He put together a short video to show you exactly how earnings season trades work
Click here to get more details.
Good investing,
Mike Burnick