September is here, and with it, volatile markets.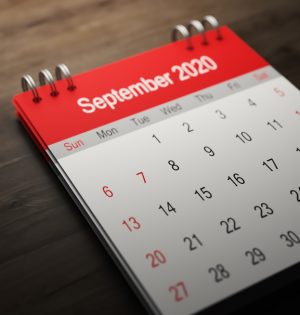 As if right on cue, the stock market turned volatile with the S&P 500 Index falling 7% in just three trading sessions. It's a stark reminder that stocks don't always go straight up.
That's why you should follow a strategy that pays you consistent, instant dividends every week. You get paid no matter which way the market is headed, even in volatile markets.
Based on the historical data, September is the WORST month of the year for stock investors. Going back to 1928, the market this month is up only 45% of the time. Even worse, the S&P 500 has posted a 1% decline on average, with some Septembers being much worse than that.
Just go back two years to 2018 and you'll see the stock market peaked in September. It went on to tumble nearly 20% over the next three months. The good news is that I don't expect a similar correction ahead.
Still, in volatile markets, it makes perfect sense for you to follow a simple strategy to earn a steady income stream from the same stocks you buy looking for upside capital appreciation.
Best of all, you can declare your own instant dividends from some of the biggest and best blue-chip stocks in America. Cash payments from iconic companies like   . . .
$115 from Pfizer
$125 on Coca-Cola
$167 with Verizon
$220 on United Rentals
$410 payment from 3M
You just sit back and collect regular cash dividends and you even control when and how much you get paid.
That's right. You get to declare these instant cash dividends when you want. And keep in mind, the payouts listed above are the minimum payments you can get.
You could easily collect 10 times, 20 times, or even 30 times more . . . really as much as you want. Even better, you don't have to keep a lot of your money tied up to do it. That could be dead money at times like this, with stocks sliding.
But by declaring instant dividends of your own, you are earning current income regardless of the market's direction.
Let me give you a quick example.
Verizon Communications (NYSE: VZ) is a rock solid blue-chip if there ever was one. And it pays an enticing 4% annual dividend. But VZ is $60 a share.
You would have to invest $6,000 for a 100-share round lot in the stock. Then you would collect dividends only four times a year, adding up to just $240 over the next 12 months.
Meanwhile, you've got $6,000 tied up and at risk for a full year.
But with the strategy I'm talking about, you don't need to buy a single share of VZ, or any of the blue-chips listed above. Instead, you can rent-to-own them, and you still get to collect instant dividends in the process, anytime you want.
My colleague Andy Crowder uses this exclusive instant dividend strategy to consistently earn big money of up to $7,680 per month. And he just posted a live webinar explaining exactly how to do it, step-by-step.
Click here to register FREE so he can show you how it works.
In this short video, he will explain exactly how easy this is, with plenty of instant dividend examples from some of America's biggest big blue chips.
If you want to earn consistent monthly income – then you will want to check out this simple strategy right away.
Get all the details right here.
Good investing,
Mike Burnick