The most exciting thing to pass my desk over the past week was undoubtedly news of explorer Linc Energy's (LNC.AX) massive potential shale oil and gas discovery in South Australia's Arckaringa Basin.
This stock has already had a good run over the past few months, and this latest positive catalyst gave it another 30% burst. The news also put Australia back on the map for speculative oil investors. The question now is if there is more money to be made in Australian exploration stocks in the near future, or if the opportunity has passed by.
Two independent estimates pin the potential resource at between 103 and 233 billion barrels of oil equivalent, meaning the find has the potential to turn Australia into a net energy exporter. The number floating around is that the reserves could have a market value of as much as $20 trillion. That isn't a typo.
The potential reserves are certainly massive, but there is still a lot of work to be done to see if they are recoverable. The estimates are defined as "unrisked prospective resources," which means we have no idea yet whether they can be tapped to bring the oil and gas to the surface. Finding out this crucial information will take months, if not years. So in a sense this is the beginning of the news flow, not the end.
Word has it that Linc is looking for a partner to step in to help fund future development, which could run $300 million, for starters. For current investors this would likely be a better alternative than a dilutive stock offering, but it still would reduce Linc's ownership stake.
And since more conservative estimates suggest the company has around 3.5 billion barrels of recoverable oil, I think it's likely that Linc will try to firm up its own estimate before deciding on a direction.
Commenting on the potential, Peter Bond – Linc's CEO and largest shareholder – stated, "How much is recoverable is always the question. Is it 3 billion barrels or is it 203 billion barrels? Even if it's 3 or 4 billion barrels… that's a massive find in this part of the world. No matter how you cut it, it's still a massive outcome."
Linc's market cap now stands at around $1.3 billion after rising nearly five-fold since November 2012.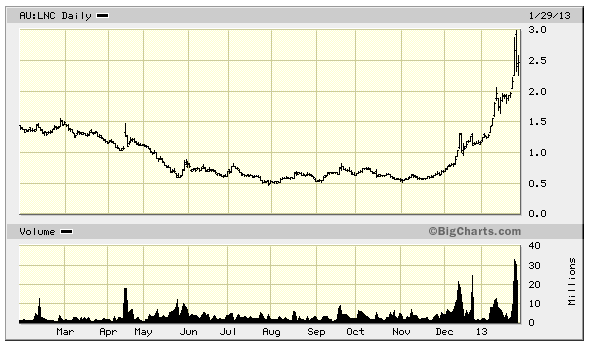 Based on the broad storyline and stock performance, the similarities between Linc and other "sexy" resource exploration stories – Africa Oil (AOI.V) comes to mind – are indeed striking. These are the types of investments that can turn $5,000 into a brand new car almost overnight.
Part of what Linc will have to work out is how to deal with the high cost structure for shale oil drilling in Australia, where costs often run 50% higher than in the U.S. But it could be at the forefront of that continent's shale oil revolution, meaning that in due time costs could come down.
This is certainly an exciting story. But if you didn't own shares of Linc before this discovery, I'd recommend watching from the sidelines at this point. There will likely be opportunities to put money to work if the story is as good as it seems. And I'd rather forgo some potential gains in order to get more information as it becomes available, especially since the size of the potential oil resource means that investors have high expectations from Linc right now. This can be a dangerous time to make a speculative investment.
The next step is to become familiar with all of the exploration areas in Linc's portfolio, as well as those in surrounding areas. And look carefully at Linc's expected expenditures versus expected revenue and cash flow. And finally, take a look at other companies operating in the surrounding area and begin to monitor their performance. This due diligence will go a long way to help understand the company's potential, and the challenges it faces.
Other exploration companies with assets in Australia that are worth watching include Buru Energy Limited (BRU.AX), Beach Energy (BPT.AX), Santos (STO.AX) and Rodinia (ROZ.V).
Happy exploring,
Tyler Laundon, MBA