Last week I talked briefly about my least favorite natural gas investment – the United States Natural Gas Fund (NYSE: UNG).
If you haven't read it, I suggest doing so – and keeping it handy as a reminder of what you're up against in the natural resource sector of investing.
Frequently even the best-sounding investments in the market are the worst for your portfolio.
And if you're anything like me, you have a tendency to want to look for the contrarian play. It's great to ride a commodity bull market, but even in the throes of a huge uptrend, there are opportunities to take the road less traveled.
Right now, as has been the case for much of the past 3 years, natural gas prices ARE very low. For the contrarian-minded, low prices should be an alarm bell to take notice – and do some further digging.
And some further digging reveals that natural gas prices aren't just cheap – they're at 18 year inflation adjusted lows.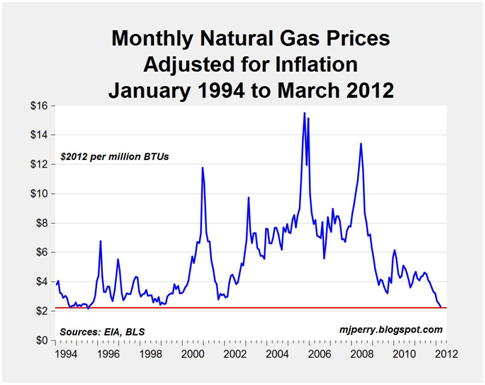 There's no guarantee they won't fall further – but anytime you can buy an asset at an 18 year low, you're probably on to something.

The question – as always – is how to give yourself upside leverage to higher prices.
As I've said before, natural gas is a tricky commodity to store. You can't just fill up a barrel of it (like you can with oil) nor can you pour it into bars (like you can with gold or silver.)
It's expensive to store natural gas – because it's a gas and it requires specialized equipment. Most natural gas producers have taken to storing their gas "in-ground" meaning they don't pump it out of the ground once they find it.
This difficulty in storing natural gas means that it's a regional marketplace. The price quoted in the chart above refers only to North American Henry Hub natural gas prices. If you go to Asia or Europe, the prices are substantially higher.
So for now, the upside is for companies that can and do store and export natural gas.
As I said last week, the capitalists in Asia aren't worried about American unemployment or stock prices. They're worried about getting enough metals and energy to fuel their continued growth.
So in one sense, the shoe is on the other foot with China. They need our natural gas. The New York Times reports that many Chinese factories are already experiencing "severe electricity shortages."
It's a big story worth checking out. My boss Ian Wyatt recently wrote a full write-up on this opportunity, which you can read for yourself by clicking here now.
The crux of it is that one American natural gas exporter stands to benefit from increased Chinese dependency on natural gas. They pay an 8% dividend and they have no downside to lower priced natural gas, because just take their cut from storage and export profits.
Definitely take a look at this brand new write-up if you're interested.
Good investing,
Kevin McElroy
Editor
Resource Prospector Pro