TIMBER!
Money
Does Grow On Trees
What
to buy

Whether you paid your taxes early, or you're still tearing
your hair out looking for that one last receipt, there's something aggravating
about April 15th.
To take your mind off things, I've dug up some information
on a special kind of tax-free investment: real estate investment trusts, or
REITs.
REITs are special companies that pay ZERO corporate taxes as
long as they pay out over 90% of their profits to shareholders in the form of
dividends. Obviously, you have to pay
tax on the dividends – but as a shareholder, that's the only tax you'll
pay. Non-REIT shareholders get dinged
twice: once as an owner (corporate tax) and again as a shareholder (capital
gains and dividend taxes).
Okay, I know what you're thinking: what does a REIT have to
do with commodities?
I understand the confusion: many REITs are suffering
terribly from collapsing commercial real estate values. Some REITs are nothing more than large-scale
landlords for other businesses, so they depend on rents and are responsible for
upkeep.
I'd never want to own one of those REITs. But I'm excited about owning another kind:
Timber REITs.
These companies are attractive for many reasons. The first and most obvious is the
dividend. That's something you get with
any REIT. But there's further upside for
timber companies in general.
Unlike property management REITs that own buildings and are
responsible for upkeep, timberland is actually an appreciating asset. They can cut down trees and sell them for
cash, or they can leave the trees in the ground to grow in size and value.
On average, timberland increases 6% every year with
regular old sun and rain. That's the
kind of safe, non-speculative growth you can count on.
And I expect with lumber selling
for higher prices than in previous years that timber REITs will be glad to cut
down some trees. We had five years of a
bearish market in lumber. Like many
things, lumber hit rock bottom back in March of 2009. Now prices are on the upswing.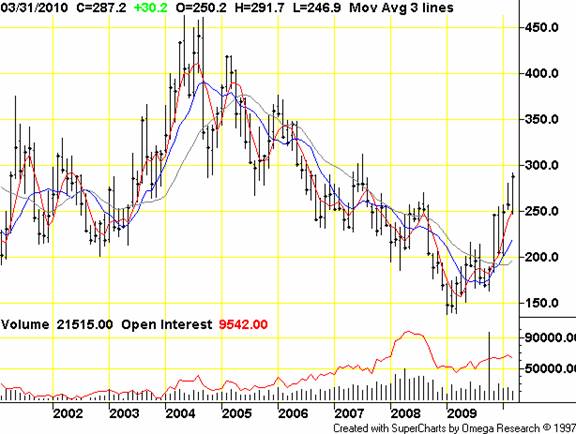 This chart shows the price in
dollars of 1000 board-feet of lumber.
You can see the big drop off in
lumber prices back in 2005. That's when
housing construction really started to slow. Most people think that the sub-prime mortgage mess killed housing, but
the slow-down actually started back at the end of 2005. In mid-2006, Money magazine ran a story with
the headline "Housing Starts Slow: Starts of new homes, building permits both
post sharp drops below expectations in latest sign of real estate slowdown."
There's still not a lot of
bullish news in terms of new housing construction. January jobs data revealed that 40,000
construction jobs got cut. Of course, there is a lot of seasonality in
construction and January isn't a busy month.
But any positive news in
construction will be bullish. The thing
is: there's not that many construction jobs left to lose. Many of the 40,000 construction jobs lost
were seasonal. It's tough to build in
much of the US
in the middle of winter.
When those jobs "come back" this
spring and summer, I'll look for lumber prices to get a further boost. Recent earthquakes in China, Taiwan,
Chile and Haiti will buoy
prices as well as more lumber will be required to rebuild. And then I expect higher prices will carry
through the autumn as hurricane season continues to bolster demand.
The good news is that there
are only really two of these companies that look like a buy right now:
Potlatch Corp. (NYSE: PCH) and
Plum Creek Timber Co. (NYSE: PCL). Both
are American companies, sitting on American timberland. Both should benefit from higher lumber prices
– but can literally "grow" in value if prices get too low.
Potlatch pays a 5.4% dividend but
they look a little more volatile, and Plum Creek pays a 4.1% dividend and looks
to be the safer bet.
If you want to add some exposure
to lumber, and collect a modest dividend, look for opportunities to build a
position slowly in both companies in dips over the next few months.
Good investing,
Kevin McElroy
Editor
Resource Prospector