Oil prices today

Recent oil discovery off the coast of
Africa
The company that will help discover more
oil
There's a lot of buzz in the oil markets these days, and
while we've been kind of lulled into complacency with oil in the
$75-$80/barrel range, this situation won't last forever.
It might not even last for long, and right now there's a
unique opportunity to buy a highly specialized mid-cap oil company. I'll get
to this company in a bit…
In the meantime, the United States currently has one of the
largest stockpiles of oil it's ever had, with over 1.13 billion barrels of
petroleum inventory – or about 60 days worth of supply at current rates of
consumption.
The news immediately caused oil futures to dip – briefly
below $75 a barrel.
That'sabout the
average price for 2010, year to date: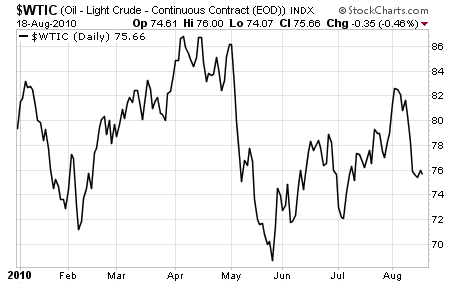 In bigger oil news,
Anadarko Petroleum Corp. (NYSE: APC) discovered oil off the
coast of the eastern African nation of Mozambique. According to a story on

Bloomberg.com it doesn't appear as though this oil deposit will be viable
for recovery and development, but it does prove that there's oil off the
eastern coast of Africa – which is pretty significant.
I'm not necessarily interested in Anadarko at current
valuations. By a price to earnings ratio, it's one of the most expensive
large cap oil companies, it doesn't pay much of a dividend, and it carries a
significantly higher debt load than its competitors. Of the companies in the
sector, I still like Exxon (NYSE: XOM) – you can
click here to read a recent article I wrote about Exxon.
So while Anadarko is part of the story, it's the discovery
itself that's really interesting. That's because it's the first discovery of
any oil in the area, and it could signify much more exploration and
development in the future.
Specifically, it's a deepwater discovery, and there are so
few deepwater oil drillers that you can buy the whole industry pretty
easily.
The largest deepwater driller is Transocean Ltd.
(NYSE: RIG) – a company you've certainly heard about in the news. It
was Transocean's drilling rig that exploded and caused the oil spill in the
Gulf. The stock got shellacked – perhaps unfairly. They rented the rig to
BP (NYSE: BP) – so it seems like they're catching some blame
even though they had very little to do with the actual disaster.
If I rent a car and drive it into a crowd of people,
Hertz (NYSE: HTZ) shouldn't catch any blame unless there's
something fundamentally wrong with the car. I haven't heard any news that
Transocean's rig was faulty; it seemed more like BP's operators were to
blame.
In any event,
Transocean's stock – along with its two biggest competitors, Noble
Corp. (NYSE: NE) and Pride International (NYSE:
PDE), are all selling near their 52 week lows. Of the three, Noble
Corp appears to be the cheapest on a valuation basis, and has the least
amount of debt. These companies have traded in unison since the spill in the
gulf: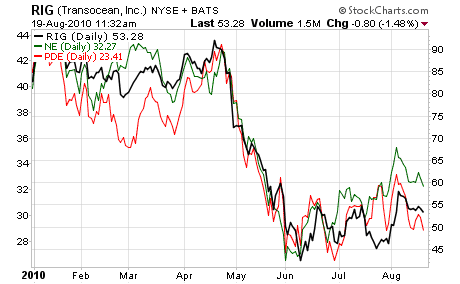 But Noble Corp is starting to lead the way. Considering the
bearish news about oil prices and supply coupled with this east Africa
deepwater discovery, I'd look at any weakness in the stock to start building
a position in Noble Corp.
New oil discoveries in East Africa can only be accessed by
the specialized rigs of deepwater drillers and explorers like Noble. You
might think that with deepwater moratoriums in the Gulf revenues for
deepwater drillers would fall. But according to one industry analyst, L.
Farrell Crane of Orleans Capital Management, "the
reality is that the deepwater Gulf of Mexico represents a small fraction of
their overall business, perhaps 3 or 4% of total revenues."
A 3-4% ding on revenues shouldn't cause a stock to fall
close to 50% – but that's what has happened with Noble and its
competitors.
I think we can expect around 30% upside over the next few
months for Noble – as always, you should buy on weakness and average into
this stock over time.
Good investing,
Kevin McElroy
Editor
Resource Prospector
Disclosure: no positions