An anonymous conversation

Why stocks are lagging gold

32 companies to buy today
You might have noticed
something strange going on in the markets recently – especially with how stocks relate
to commodities like gold. And you're not
alone. It's easy to see that gold and
stocks shouldn't make gains in tandem. It's hard to imagine people being bullish on the economy at the same
time they're bullish on gold. That's because gold is usually seen as a safe
harbor, protecting against calamity in the markets and world currency.
So what's going on?
Yesterday I was talking with
a well-respected gold analyst with many years of experience in the field – who spoke
to me under condition of anonymity. He's
been as successful as anyone I know when it comes to finding profitable gold
stocks.
He complained yesterday that
gold stocks weren't performing as well as he'd like.
And he's right – so far this
year gold has returned about 16%, while larger gold companies like Royal Gold
(Nasdaq: RGLD) have been somewhat disappointing. RGLD has only returned about 6% this
year.
Check out this chart showing
gold prices (dotted line) vs. RGLD (solid line).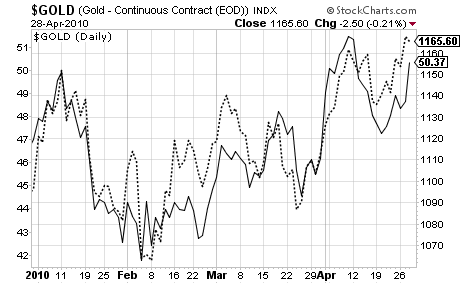 We know that gold stocks
tend to lag gold price fluctuations, and we can see how RGLD always seems to
tentatively follow gold prices upward, and then quickly retreat when there's
even a hint of trace-back in gold.
It's the same situation
that's happening with stocks in the broad market: gold stock prices are
climbing a wall of worry. Investors are trading in and out of gold stocks
and taking profits at the earliest chance – preserving the bulk of their
investment in case there's another fall around the corner.
But that's not how gold
stocks typically react to higher gold prices. As I've talked about in a past issue of the Resource
Prospector, the whole idea of investing in gold stocks is to
benefit from the ability of gold miners to multiply gains made in gold's
price.
What this means, is that
there's a whole lot of upside for gold stocks right now – this potential is discussed
in some length in this
recent article written by another long-time gold analyst Mr. Prieur du
Plessis. He shows how gold miners in
general have started moving higher. He
says, "the Gold Miners Bullish Percent
Index shows more than 60% of the 32 stocks in the Gold Miners Index are now in
point and figure uptrends."
Mr. Plessis refers to a
somewhat esoteric index that you can't find in a lot of market search
engines. I use www.stockcharts.com for a lot of my
research, and you can see this index there by typing in the symbol $BPGDM.
This movement could indicate
a decoupling of gold stocks from the broad market, which has been displaying
highly bearish tendencies over the past week – a much needed breather from its
breakneck march upwards since the February lows.
Simply put, this news, and
strange market activity, means good things for gold stocks. You can look at the 32 stocks in the Gold
Miners Bullish Percent Index, and buy the ones that strike your fancy and
probably do pretty well over the next few months.
But I recommend getting a
little help with your selection process by taking a risk-free 30-day trial
subscription to Global Commodity Investing. We currently have three profitable gold companies in the portfolio that
I believe are the best of breed right now. You can see all of our research on gold and other commodities by clicking here.
Gold companies like RGLD,
and miners in that index are more profitable when gold prices are higher, so
there's no reason they shouldn't trade higher as gold prices continue to
rise. As always, look for any pullback
to add to your positions.
Good investing,
Kevin McElroy
Editor
Resource Prospector
p.s. My boss is begging me
to tell everyone about an opportunity to buy Warren Buffett style stocks ahead of the
Berkshire Hathaway shareholder meeting this weekend. If you're interested in reading about three
Buffett-style investments, click
here to find out how you can get a free report before Buffett tips his hand
on May 1st.