Liberals…with
guns?

Vermont

and
its nuclear problem
The
exact kind of situation we want to invest in
I've been a resident of the
beautiful state of Vermont
for just about a year and half. And just
like any new place you move to, I found that my expectations were close, but
just not quite on the mark.
In that regard, Vermont, more than any
other place I've lived, is something of a contradiction. You've probably heard that Vermonters are
notoriously liberal. And that's mostly
true. But what you don't hear is that
Vermonters are voraciously independent-minded – almost to a fault. Some Vermonters would rather do it the wrong
way than do it the same old way. It's
refreshing, and sometimes frustrating.
And our liberal state also
has some of the most lax gun-laws in the country – maybe the world. In some parts of Vermont, you can walk down the street with a
loaded .357 magnum on your hip, in plain view, and no one will bat an eye. Vermont is
also the only state in the country where you can hunt fish with a gun. I've
heard northern pike can be vicious, but seriously? We also don't have any restrictions on
concealed carry. As long as someone
hasn't been convicted of a felony, they can pack heat in Vermont. Are we politer for it? I can't tell.
Yes, Vermont is probably the best place to go
skiing on the East coast – but it's also gorgeous and extremely livable in the
summer. To that point, it does get
pretty darn cold during the winter – usually there's a week or two where we dip
into the negative 20s. But the hottest days of the summer will
scratch into the low 100s on occasion.
The biggest contradiction
might be that Vermont
gets a good chunk of its electricity from a nuclear plant called "Vermont
Yankee."
I know…you're thinking:
"liberal state" and "nuclear power" do not go together very well. And you're right. It seems that Vermonters have been trying to
close Vermont Yankee ever since it opened. Lately, the calls for its closure have grown much more shrill and
frequent after a small amount of nuclear waste water *may* have leaked into the
Connecticut River – the river that separates Vermont and New Hampshire, passes
through the middle of Massachusetts and eventually outlets into the ocean on
the Connecticut coast.
So it's not just Vermonters,
but New Hampshirites, Bay Staters and Connecticuters that are peeved at Vermont
Yankee.
And of course, there's a
grumbling ground-swell of malcontents around the world angry at nuclear power
in general, in much the same way that people don't like Wal-Mart (NYSE: WMT), McDonald's (NYSE: MCD), Exxon (NYSE: XOM) and any of a number of unpopular, world-dominating
companies.
And like those boring old
blue chips, nuclear power isn't going anywhere.

The fact is, even if
Vermont Yankee gets closed, which it very well might, there are still another 435
nuclear plants around the globe. And
according to the World Nuclear Association, another 327
reactors are scheduled to be online by 2030. China
alone is planning to build another 120 reactors by then.
Even better- the WNA estimates that world usage of
uranium will be 68,646 tonnes in 2010 – but by 2030, they expect that number to
swell to more than 343,000 tonnes.
Again- most of that demand
will come from China,
followed closely by India
and Japan.
So what's next?
Sometimes it's tough to reinforce
a contrarian viewpoint. All I hear on
the news in Vermont
is that nuclear is bad. I don't actually
believe that nuclear is bad, and I'm kind of worried about my electricity bill
if we get rid of one of the biggest contributors to the grid in this area. But if the popular media, and general feeling
about nuclear is that it's bad…then it's probably a great place to think about
investing.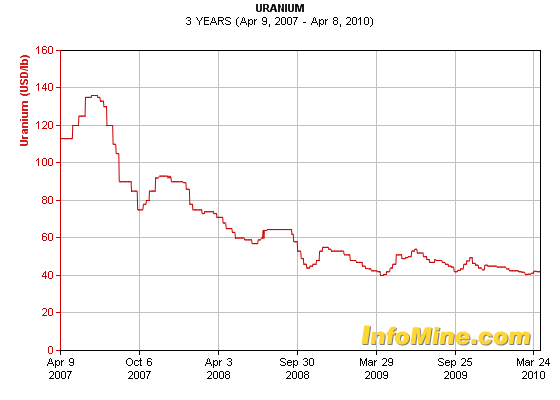 Taking a quick look at
uranium prices, the weekly spot price is currently $41.75/lb – well off the
highs of nearly $140/lb back in early 2007. But as our all-star Trademaster
analyst Jason Cimpl says, "Just because
something is well off its highs doesn't mean it's a good time to buy."
I think he's right. The price of uranium has been on a race away
from its highs. And since it could very
well make new lows – which would put it below $7/lb, maybe now's not the right
time to build a position.
So we've got prudence on our
side, but when will we know when it's time to buy? I really like the long-term trend for higher
uranium prices. It's one of those
inevitabilities, like rising oil prices, that I want to get my portfolio out in
front of.
The easiest way to test the
waters of the nuclear energy industry might be to buy the exchange traded fund The
S&P Global Nuclear Energy Index (NASDAQ:
NUCL), which tracks the biggest uranium producers and nuclear power
companies in the S&P 500. It's not a
pure play on uranium prices (it's actually split 50-50 between uranium
producers and nuclear power providers) but it gives us an idea of how the
industry as a whole is doing.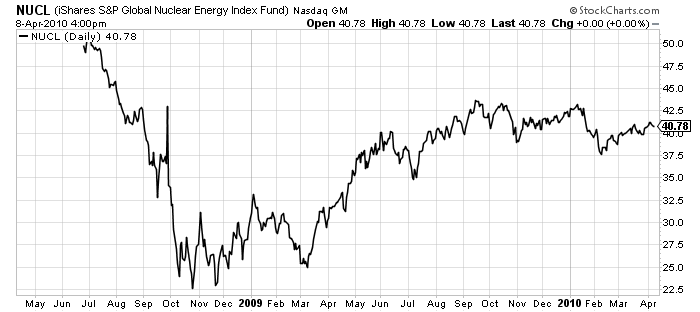 Of course, like a lot of
ETFs this one came into the market near the top. This exact scenario happens with commodity
funds especially, because frequently it's only when a given commodity is at its
priciest that fund managers get enough pressure from investors to launch a new
ETF.
The added liquidity from
this fund might have even helped to drag uranium prices down from their highs a
bit.
In any event, ETFs, by
definition, can't outpace the sum of their components. I've talked about how I'm not a huge fan of
ETFs before for this very reason. The
upside is much better with individual companies- BUT it's a good way to give
yourself some initial exposure to the trend because it limits your downside. We've held some uranium majors in the past,
and had a good degree of success so we'll be looking to add more exposure in
the future.
In our Global Commodity Investing
portfolio we recently sold Ivanhoe Mines Ltd (NASDAQ: IVN) for a nice 107% gain. They mine pretty much everything, including uranium.

Click here now for a risk
free 90-day trial subscription to Global Commodity Investing.
Right now, I'm having a
conversation with Jason Cimpl about adding a uranium miner to the
portfolio. He's leery of uranium for the
short term, but he's a trader. I'm
looking at the long-term trend here, and even if uranium loses another 50%,
it's only a matter of time before the trend reverses. Looking at the numbers for the next few years, the world will be using
much, much more uranium than we use today. That means higher prices for uranium. I'll be looking for dips in uranium's price to build any position in miners and producers.

In the meantime, we recently
recommended a small company that specializes in another type of energy
commodity. It's currently trading much
cheaper than its peers, and like the uranium companies on our radar, it's a
great play on a cheap, and relatively scarce commodity that we know China is trying
to get its hands on. Click here to get
the full story.
Thoughts on uranium and/or
nuclear power? Send your comments here: [email protected]
As always, the uranium story
is a situation we expect to cover in more detail in Global Commodity Investing,
and with commodity prices across the board still beat down, the time couldn't
be better to take a free trial subscription.
Good investing,
Kevin McElroy
Editor
Resource Prospector