The lowest oil price in over 7 months

Drawing a line in the sand

An investor with a conscience
I want you to take a look at
an 8-month chart of crude oil prices.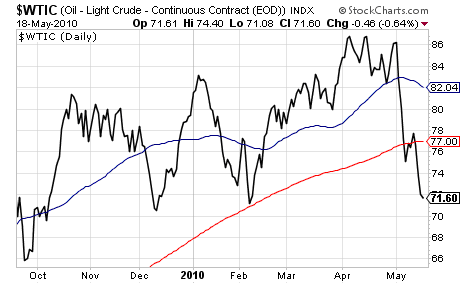 The blue line is a 50-day
moving average, and the red line is a 200-day moving average.
I hate throwing up multiple
indicators and overlays on a single chart, because it distracts from the simple
usefulness of looking at price over time. The more you add to a chart,
the less easy it is to look at and get useful information from. But in this
case the moving day averages help with my analysis.
In this
case, we can see that oil prices have fallen to their lowest levels in nearly 8
months.
The moving averages show us
a slightly different story: until the first week of May, oil was trading mostly
above its 50 day average, and well above its 200 day average.
That all changed, and now,
crude is selling below its average price for both 50 and 200 past trading
days.
Blah blah blah. I hate
it when writers show a fancy chart and then spew a bunch of analysis without
drawing a line in the sand and giving me their unvarnished opinion.
So here's
my prediction for oil: unless the unlikely happens, and oil prices rebound
dramatically in the next 10 days, I think they'll hit $66 – or maybe even $60 a
barrel by the end of June.
My general prediction for a
low coming after the next 10 days is in line with research from Energy Analyst
Gregor Macdonald, who contributes to Energy World Profits.
Gregor has been looking at
seasonal tendencies going back 25 years, and it's normal for crude oil to hit
an initial high in April, and then bottom in June before hitting a new, higher
high later in the summer.
So my point is that if
you're currently a shareholder in oil stocks, don't sell.
But you should look for opportunities to add to your positions. I believe
the time will come between now and the last week in June.
To take advantage of these
lower prices, which may never be this low again, I've talked about buying BP
(NYSE: BP). Seasonally low oil prices are the last of this company's
worries, as the spill in the Gulf of Mexico seems to be snaking its way towards
the Florida Keys. I don't know how much
more hated this company can get. But regardless of what happens, I'm confident
that BP will still be in the business of selling oil for many years after this
disaster is just an unpleasant memory.
They're paying a 7.2%
dividend, and that's something that almost never happens with a huge blue chip
company. As I said on Monday, if you buy $22,000 worth of this company,
the dividend could pay for your gasoline for the rest of your life.
But on the
drive in today, I had a chat with Tyler Laundon, one of the top researchers
here at Wyatt Research. I mentioned what a great buy BP is right
now, and he said, "I don't consider myself to be a particularly
environmentally conscious investor, but at some point you have to draw the
line. It might not be logical, or particularly investment savvy, but I
just don't want to put my money into a company that's responsible for such a
disaster."
I'm sure Tyler isn't the only investor out there who
just doesn't want to invest with BP, no matter how attractive the stock
looks.
If you're in that camp, I
can recommend an American oil company that doesn't drill offshore, and has the
potential to be at least as profitable as BP. This company is drilling in
what's known as the Bakken – a location in North Dakota with reserves upwards of over
100 billion barrels of oil.
I encourage you to read
Chief Investment Strategist Ian Wyatt's full report on this company by clicking here. More importantly, I hope you take
advantage of falling oil prices to build a position in fairly valued oil
companies.
It could be the best time to
make the best investment of your life.
Good investing,
Kevin McElroy
Editor
Resource Prospector