HGT: 26% capital gains in two months

Earn an 8.8% dividend from HGT and XTO

Three natural gas companies to buy right now
Natural gas prices have
risen 25% since I started urging my Resource Prospector readers to buy natural gas stocks
almost three months ago. While the early gains have already been made, it's
still not too late to profit from this long-term trend.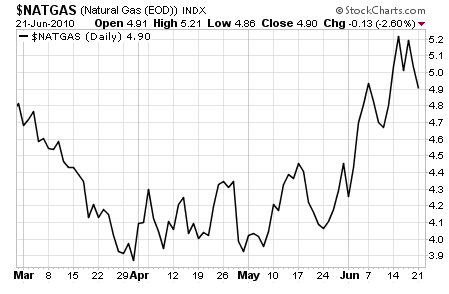 On April 1st I told
readers,
"today,
you can buy natural gas companies for extremely cheap. I'm talking cheaper than
you'll likely ever see them again."
And I
recommended picking up some shares of Hugoton Royalty Trust (NYSE: HGT) a company that collects
royalties from natural gas production and sales from XTO Energy Inc. (NYSE: XTO) – one of the largest natural
gas companies in the United
States.
Since then, the stock is up
26% and it has paid two monthly dividends to folks who bought before April 30th.
And the company is still paying an 8.8% dividend. Compared with what you'll
earn in your money market account or a CD, the yield is pretty attractive.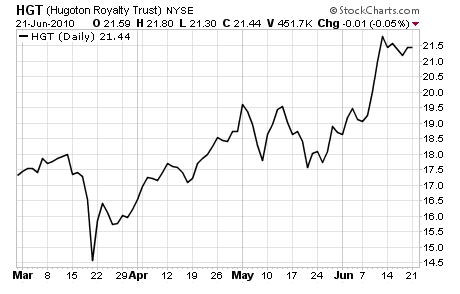 I again recommended buying
natural gas companies on April 5:
"I
can't think of a better time … to get started investing in natural gas."
On that day, I told you
about a giant, domestic natural gas company. And admittedly, it hasn't soared
as high as Hugoton.
But it
also hasn't gone down either, and it's still a great buy. Compare this
still-dirt-cheap blue chip natural gas company (the red bar) to the S&P 500
(the blue bar) over the same time period: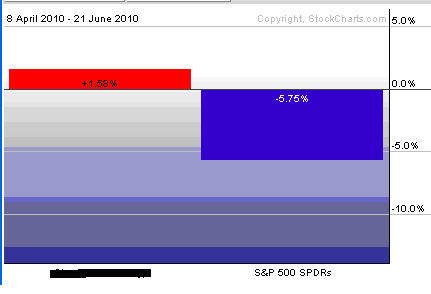 The next day on April 6, I
actually apologized for bringing up natural gas again:
"I
have to apologize, but I wouldn't be doing my job if I didn't sound the alarm
for natural gas. I realize I've been banging the table for natural gas for
three articles in a row now, but I'm here to help you make money, so that's
what I'm going to do."
I went on to say:
"I can't emphasize this enough: we're looking at
something of a perfect bottom for natural gas companies right now. This type of
situation does not come along very frequently."
And I also recommended
buying natural gas companies again (and again) on April
23, April
27, April
29, April
30, May
12, May
27 and May
28.
I hope you took me up on my
research and recommendations and were able to get into Hugoton at an attractive
price, or maybe you took advantage of one of the trial offers for Energy
World Profits touting natural gas companies.
If you haven't done either –
well, there's good news and bad news.
I'll go with the bad news
first: you've already missed out on getting into these companies at the best
possible price. I hate to say I told you so, but over and over again, I've been
trying to get your attention by informing you that $4 natural gas would not
last.
The good news is that
natural gas is still incredibly cheap, and buying these companies today still
gives you huge upside as prices continue their slow and steady march upwards.
The first chart I showed you
in today's issue of the Resource Prospector only goes back
four months.
Here's a chart showing
natural gas prices going back five years: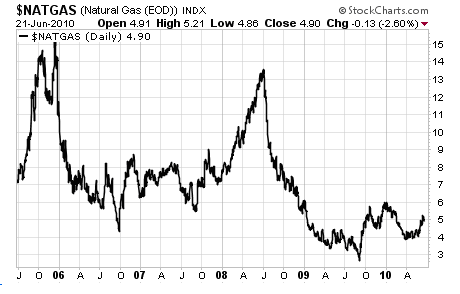 You can see how natural gas
prices are still barely off their rock bottom lows. They have another 30-50%
upside just to get back to normal levels of two years ago. And there's the
potential that we could see another double digit spike.
Okay – enough charts and
statistics. If you're not excited about natural gas, you might want to check
your pulse to see if you're still with us. But if you are excited, then it's
not too late to buy fairly valued natural gas companies.
Right now,
I'm most excited about three oil and natural gas companies currently in
production in what could be the largest natural gas field ever discovered: the
Bakken region of North Dakota.

I like these companies in
particular, because they're drilling in what's known as North
Dakota's Badlands. The area is
beautiful, but also largely uninhabited, remote and almost completely unusable
for any purpose. It's the perfect region to have an oil and gas operation,
because there are few people to complain. You couldn't pick a more politically
correct place to drill.
My boss and Chief Investment
Strategist Ian Wyatt recently completed a full research report on these three
companies, and shows you how you can get exposure to this great opportunity
today. You
can click here to read more about these companies – including the full
details of how much oil and gas they have, and how profitable they'll be in the
coming months.
As always, if you have any
questions or comments about natural gas, or anything else, please drop me a
line at [email protected]
Good investing,
Kevin McElroy
Editor
Resource Prospector