Goldman Sachs (NYSE: GS) is the preeminent investment banking firm in the world, built on the strength of its uncanny knack for correctly predicting which way the stock market winds are blowing.
But when it comes to gold, Goldman Sachs is often dead wrong.
So there's no need to panic when the so-called "Vampire Squid" says that gold prices will peak in 2013. That's what Goldman analyst Damien Courvalin is calling for in a recent report on gold.
Courvalin predicts that gold, currently trading at just over $1,700 an ounce, will top out in three months before pulling back considerably in late 2013 and 2014.
Specifically, he said:
"We lower our 3-, 6- and 12-mo gold price forecasts to $1,825/toz, $1,805/toz and $1,800/toz and introduce a $1,750/toz 2014 forecast. While we see potential for higher gold prices in early 2013, we see growing downside risks."
In other words, according to Courvalin, gold will top out at $1,825 an ounce in three months, then retreat 4% by 2014.
As a commodity investor, Goldman's bearish gold outlook may be enough to convince you to sell off all your gold in three months. But recent history tells us it's best to ignore any gold forecast Goldman Sachs issues.
Just look at this timeline of Goldman Sachs' wishy-washy gold forecasts over the past two-plus years:
January 2011: Goldman forecasts a top in gold prices of around $1,750 an ounce, perhaps by the end of 2011. By September, the yellow metal had reached a high of just under $1,900 an ounce.
November 2011: Having changed its tune to bullish, Goldman suddenly predicts a major push in gold prices. The bank upped its 12-month gold target to $1,930 an ounce. The price has been more or less flat since.
May 2012: Goldman predicts that gold will advance to $1,840 an ounce within six months. At the time, gold had reached a 12-month bottom of less than $1,550 an ounce. While gold did advance over the ensuing six months, by early November it was below $1,700 – having never really flirted with the $1,800 mark.
Now, it appears, Goldman is back to being bearish on gold. So, if you're scoring at home, Goldman has gone from bullish to bearish to bullish and now back to bearish – all in the span of just two years.
If you're a visual person like me, this chart of Goldman's recent gold forecasts may paint a clearer picture: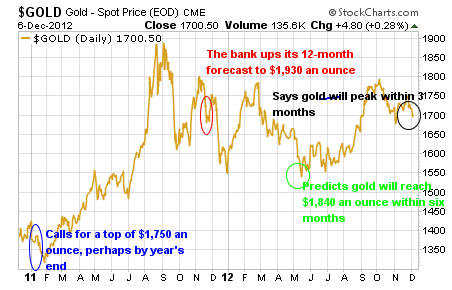 In summary: when Goldman predicted a top in gold of $1,750 an ounce, it went to almost $1,900 within nine months. Since Goldman changed its tune a year later and upped its 12-month forecast to $1,930 an ounce, gold prices have basically been flat.
So take Goldman's gold predictions with a grain of salt. Any time you doubt yourself about gold's long-term direction, just pull up this 10-year chart: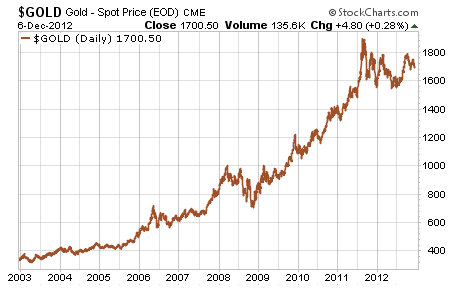 That should tell you all you need to know about where gold is likely headed.
Disclosure: I have no positions in Goldman Sachs.