On November 7, 2011 I wrote the following about platinum:
"Something strange is happening with the platinum market.
Usually, platinum prices are higher than gold prices.
But recently, it's been selling for LESS than gold.
Such an occurrence does not happen very often, and when it does, platinum usually spikes in the months following.
To show how infrequently it happens, I've posted a chart below which shows the price of gold divided by the price of platinum. Anytime this ratio is over 1 it means that platinum was cheaper than gold.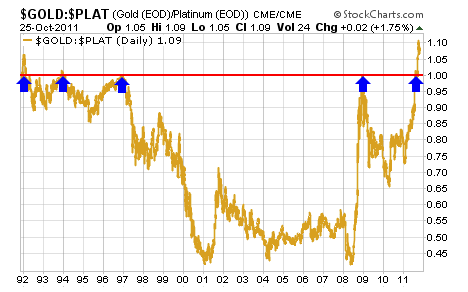 So only five times in the past 20 years has platinum been this cheap related to gold.
And now let's take a look at what happened to the price of platinum after the previous four occasions: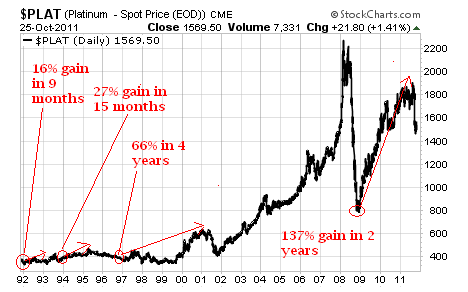 That's a solid trend: an average of 61.5% gains in 24 months.
I expect we'll see similar gains this time around.

So I'm putting in a bid on the ETFS Physical Platinum Shares Fund (NYSE: PPLT)."
Today, as of this writing, platinum is more expensive than gold. Platinum sells for $1,690 an ounce, and gold sells for $1,688 an ounce.
I'm closing out this trade today for about an 8% gain.
I bought PPLT at $155, and then bought a second tranche at $148 when it dropped even lower.
It's not as big as the average gain I talked about back in November. But the trend has reversed, and there's enough uncertainty right now that I'm happy with the quick gain.
Remember, this trade had nothing to do with my reasons for owning physical gold. It was just a discrepancy trade.
I'm sure both gold and platinum will go higher from here, but the trend has played out. It's time to deploy that capital elsewhere.
I hope you were able to take advantage of this trade for yourself. If you have, drop me a line at [email protected].